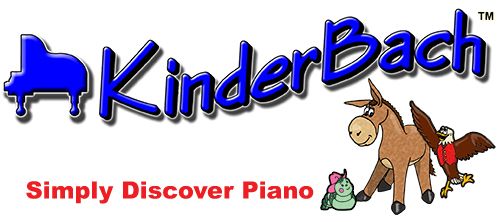 It feels like forEVER since I wrote a review, but the new review year is in full swing, and it's already time to write my first review for the Schoolhouse Review Crew in 2014! It's always easier to write reviews when we absolutely love the product, and this first review is very much an old favorite! In fact, this is our 4th time reviewing
KinderBach
! You can find our other reviews in the
Reviews tab
, above.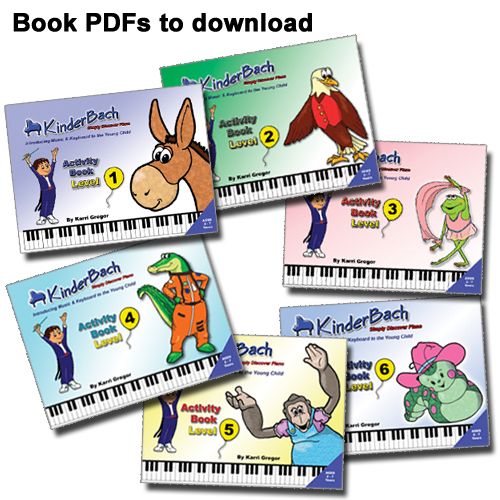 We reviewed
The KinderBach Online Piano Lesson Membership With Teacher Corner
. These online video lessons are designed to introduce young children, age 3-7, to piano, and the idea of reading music. The lessons are short (5 minutes, give-or-take) videos. Most days include a printable activity that is explained during the video. The program is set up to have 4 lessons per week, and includes 60 weeks. The Teacher Corner is new (since we last reviewed this, or at least, it wasn't included in our subscription last time). It is designed for a teacher to use to teach the basic KinderBach lessons to a group of children and includes games, songs (mp3s) and printables, but expects the teacher to do the talking and singing that the "at home" section provides via video. This would be great for a day-care or co-op group. The Teachers Corner also includes a
story book
, song books and mp3 files (
this
is one example), and coloring books (
this
is one of them).
The KinderBach Online Piano Lesson Membership With Teacher Corner
is currently $95.88 for a one year subscription. Normal price is $130 for one year. Other price options, DVDs, an iPad app, etc are also available.
Since it had been quite awhile since Little Bit and I had reviewed this, we started back over at the beginning.
As I'd found to be true in the past, the lessons are usually 'too short" for Little Bit, and most days that she wanted to do KinderBach, we went through several lessons. Despite that fact, one of the things I LOVE about KinderBach is their short lessons. Yes, most of the time, my child wants to "keep going", but I'd much rather have it set up like it is, than to have the lessons be too long for a young child's attention span and have it feel "burdensome" to them.
The lessons use fun characters, games and songs to teach children where to find certain notes on the piano, and also how to count the different notes (with the little boy, Frisco "walking" to represent a quarter note - clapped while saying "walk", and "standing" to represent half notes - clapped while saying "stand-ing", etc), which fingers to use etc.
Little Bit is a big fan of "Dodi" the donkey (the first character we meet first. Dodi's house is the 2 black keys) and overall enjoys this program. I noticed this time through that she sometimes got frustrated with the repetition . . . perhaps more of an issue because, while she doesn't REMEMBER doing these lessons before (though she DOES remember Dodi), she may pick it up more quickly since we went through the first few weeks of lessons twice when she was younger.
This time through she was much more interested in the activity pages, and also liked the printable coloring books that we received as part of our subscription. I couldn't resist snapping a picture of one of the coloring pages where she used lots of colors and stayed in the lines quite well, in my (rather biased) opinion, for a 4 year old :)
As I mentioned above, I like that the lessons are kept short, in keeping with the attention span of young children. Another thing I love is how quick and easy it is to "teach". When you pull up the video there's a link to print that day's printables, if any, or you can download a .pdf with several weeks' printables bundled, so that you can print a bunch at once. There's a short intro video at the beginning of each week to let you know what you'll need that week. I do wish, that, in addition to the video, it also provided a list, on the site, that I could glance at to see what supplies were needed.
I was also thrilled to find that we can watch the videos on the iPad. That made it easy to bring the iPad to the piano with us, when the lesson asked us to play a beat on the piano. It also meant that, on a day when I was busy with other things on the computer, I could ask one of the big girls to help Little Bit with "Dodi" on the iPad while I kept using the computer :) I had hoped to also be able to "cast" the videos onto the TV using our Chromecast device, but because the videos open in a pop-up window, I couldn't figure out a way to make that work.
All in all, if you're looking for a not too intense, way to introduce piano to your preschoolers, this is a great way to do it! You can sign up
here
, for free sessions, to make sure it's a good fit for your family.
Check KinderBach out on social media in the following links:
Facebook:
KinderBach
KinderBach for Teachers
Twitter:
KinderBach
Pinterest:
KinderBach
YouTube:
KinderBach
Click the banner, below to read what other members of the Schoolhouse Review Crew thought of KinderBach.