We don't do alot of formal math as part of our "school time". We DO end up having very interesting conversations about math at other odd times . . . my dad recently was teaching the girls about square roots LOL. However, we do end up sometimes reviewing math products for the Crew. When we were asked to review
IXL
, MiniMe was acting abit burned out on math and Sassy was seeming to want to keep learning, so I decided to just let her review this one.
IXL approaches math from all angles, so that children of all learning styles can understand math in their "language". It is an online program for practicing math skills from Pre-K through Algebra.
Since IXL is for practicing math skills it can be used alongside any math curriculum to reinforce the skills learned. However, we don't have a formal math curriculum at this age, so I just turned Sassy loose with it and let her choose the math skills she wanted to work on.
I love the reports IXL sends to the parents each week. It's great to not have to think to go in and check her progress, I get a summary right in my in-box and can click through to the site to see more detail if I want.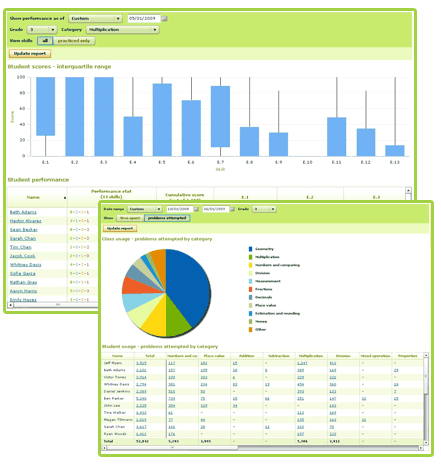 Sassy seemed to enjoy earning awards and certificates, and when I'd ask her if she was ready to move on to something else, she'd say "wait, I just have 10 more questions to answer to get my next award!" I think that's a pretty good sign that it works well LOL. When I asked her what she thought of it, her only "complaint" was that it doesn't TEACH her how to do the math skills she doesn't already know, but obviously, that's not the intent, so we can hardly hold that against it LOL.
You can read about pricing and plans
here
. In a nutshell, a family membership of up to 3 children is $9.95 per month or $79 per year.
If you're looking for a fun, interactive way for your children to practice the math skills they are learning in other curriculum or through life, this seems like a great option! I love that Sassy enjoyed it, I love that it took essentially NONE of my time, I didn't even have to remember to go check her stats, they sent them to me. I love that one membership can be used for the whole family.
To see what other members of the Schoolhouse Crew thought of this product, and how they used it in their families, check out their reviews,
here
.
Disclaimer: As a member of the Schoolhouse Review Crew, I received the above mentioned product in exchange for writing an honest review. No other compensation was received and all opinions are those of myself or my children, as stated.