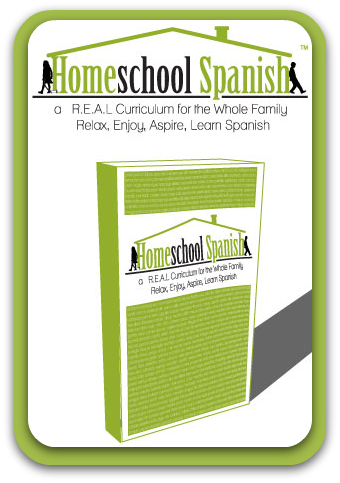 We've been dabbling at learning Spanish for about 2 years now. This all came about at the girls' request however, they tend to get frustrated with it and not want to put effort into it. I don't feel the need to drag them kicking and screaming through an elective of their own choosing so we keep trying different things looking for a good fit. . . for the past year we've basically just added a new vocabulary word every couple of days, continuing to review the old words and that has worked relatively well for learning vocabulary, as long as we keep with it BUT they weren't at all getting the concept of putting that vocabulary to use. They could go through the vocabulary flash cards flawlessly but then if I gave them a sentence using those same words they couldn't translate it without breaking it into the individual words, sigh . . . so a couple months ago I began searching for a new option to move them into more useage . . . and as happens so often, the Crew came through with perfect timing!
R.E.A.L. Homeschool Spanish
(R.E.A.L. stands for Relax, Enjoy, Aspire and Learn), is designed for homeschoolers to integrate Spanish into homeschooling. It is designed to be used with multiple ages of children in a homeschool or co-op setting.
We received it right before the holidays, so have gotten a slow start with it, but so far, it's working well for us. As with so many products, whether designed for classrooms or homeschools, we end up adapting it for our more relaxed type of schooling. The activity book is too workbookish for us, though we use some of the pages together orally.
Even Little Bit is loving the suggested puppet shows. By far the hit so far has been the suggestion to make their OWN board game. They had a BLAST making it and as I write they are voluntarily clearing all the other school clutter off the table so they can play their game!
The book is divided into units. With each unit divided into smaller sections. The introductory information indicated that you can either spend however many weeks on one unit, or go through each unit, learning some of the words, then go back through all. I thought that approach would work better for my girls, spending one week on each section, but found that the activities and puppet dialogues build on themselves too much for that to actually work, so we went back to the first unit and are finishing it up this week then we'll move forward again, learning all words in each unit as we go.
So, we've fallen into a pattern (that I think we'll continue), where we begin the week with a puppet show to introduce the new vocabulary. The next day the girls make their own flash cards. The rest of the week, depending on time we do suggested activities for that unit or the girls review their flash cards on their own.
This program is available as an instant download (what we received) for $49.95 or hardcopy for $89.95. The age of your children will affect how quickly you will move through this book. The book suggests that high school students might use it for a single school year, but that younger children will likely take longer. I think this will take us 2-3 years, schooling year round, so that breaks down to a very reasonable price per year.
In addition to the main teacher's book, which includes vocabulary, the dialogue/phrases that we use for our puppet shows, and tips/suggestions for each unit, we also received the Activity Book (workbook type activities) and audio files to go with each of these so we can hear how things are supposed to be pronounced. There is also a Daily Curriculum Guide available for an additional $9.95. This gives suggested daily lesson plans and teach prep work at the beginning of each week. Someone taking a more structured approach might find this very helpful.
Don't forget to check out what my fellow crewmates have to say about this product on the
TOS Crew blog
.