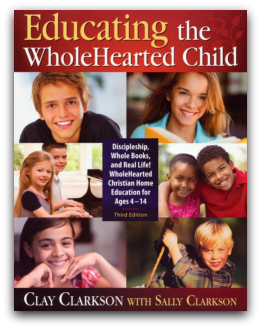 I was thrilled to have the opportunity to review the new edition of
Educating the WholeHearted Child
by Clay and Sally Clarkson. I've talked before about my love for this couple's writings, and last spring I reviewed their daughter, Sarah's, book
Read for the Heart
, so I had no doubt that I'd love this book as well. And I was not disappointed! When I received it, I was surprised at how big it is! I realized rather quickly after starting into it, that realistically, given my complete lack of "alone time" (Little Bit still doesn't know what sleep is, dh's work schedule has been insane . . .), and how MUCH information, the kind of real, good, informative information that you have to really "digest" not just skim over and go on, like I tend to do with alot of books I read, and did I mention that it's a BIG book! That it wasn't realistic to try to read the whole book in the time I had before I needed to write this review. I chose to READ it, the way I need to read it to get anything out of it, underlining, writing comments in the margin, stopping to absorb what I was reading, and I'm no where near done, but that's ok. I don't need to finish reading this book to say absolutely, without a doubt, you NEED this book!!! This is an amazing resource for any homschooling family! From great general parenting advice to things to consider in setting up your home, to how to work with your child(ren)'s personality(ies), to living books . . . and that's just the first halfof the book that I've actually made it through!!
This is not a book that you read once and then forget about, this is a book that I'm going to revisit regularly, as a resource and a source of general reminders on how to be the parent (and homeschool mom) that I want to be, and that God wants me to be!
I highly recommend this book to any Christian homeschool parent, whether you're considering homeschooling, just starting out, or have been homeschooling for years! There's so much information in this book, it will be helpful to you wherever you're at in your homeschooling journey!

You can get your own copy of
Educating the Whole Hearted Child
from Apologia for $22. While you're there be sure to check out their other great books, including
Read for the Heart
(mentioned above), and another book that the Crew reviewed (but I didn't get to) earlier this year,
How to Have a H.E.A.R.T. for Your Child
, which, after reading the Crew reviews, is now near the top of my wish list, and many more. Also don't forget to read what my fellow crewmates thought of this book, by going to the TOS Crew blog
here
.
Disclaimer: I received the above mentioned product in exchange for writing an honest review. No other compensation was received and all opinions are my own.