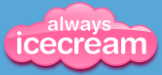 As part of the
TOS Crew
we were given lifetime access to
Always Ice Cream
, A fun, educational website community for girls age 7-12. This site allows girls to interact with one another in a safe, monitored, ad-free environment.
When I set up my parents' account, I received a nice welcome message, it was short, to the point, and informative, just the way I like it!
I then got the girls going on it. I asked that they share the access, which they did with surprisingly few squabbles.
The site includes fun stuff, like setting up a virtual "house", taking care of virtual "pets" and designing items to sell in your virtual "store". This is the part of the site that my girls have enjoyed most.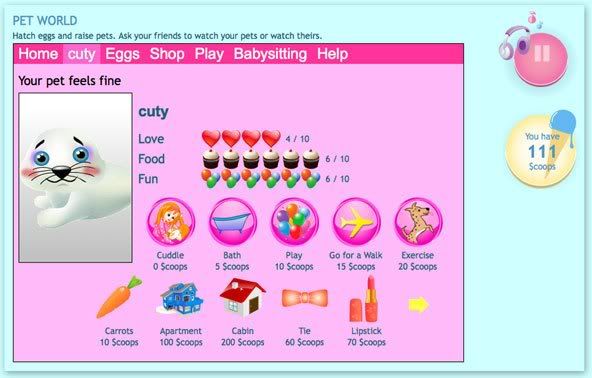 It also includes educational games and quizzes. The girls have happily done several of these to earn "$coops" to use in the virtual world, but they are abit too "quiz-like" for my unschooled children.
One thing I noticed that I'm not real fond of, for my children, is that other girls can apparently send bulk e-mails to the whole site. Soon after we signed up there was a whole string of e-mails accusing other girls of cheating and stealing ideas and such. It was disconcerting to my children whose personal e-mail accounts are kept strictly for close friends and family, so the concept of receiving an e-mail that doesn't apply directly to them is a new one.
I feel that, for my girls, I would want them to be older before spending very much time on this site, because of the dynamic of interacting with children I don't know. While it's great that these interactions are monitored, and that addresses the larger safety concern of internet predators, this monitoring isn't going to keep my children from being exposed to topics and behavior that are out of keeping with our family's beliefs, or are "typical" pre-teen behaviors that I prefer to avoid. They had fun playing with it when we first set it up, but, as generally happens with computer games for them, they kind of forgot about it, and I have chosen not to remind them.
I want to emphasize that my "concerns" aren't a criticism of the site, simply why it wasn't a fit for our family. I am fully aware that many of our family choices are counter-cultural, and we're ok with that. For a girl of this age who attends school, or other group activities without a parent present, the interactions of the site would be similar to, and probably more closely monitored, than the in-real-life interactions she would be involved with. It's a great concept that keeps the girls safer than facebook or other un-monitored online experiences.
You can see the pricing for joining this site
here
. Memberships start at $4.99 for a monthly subscription, but the first month is only $0.99 so you can try it out and see for yourself how it works for your family.
Also be sure to check out what my fellow crew mates thought, I know many of them found it to be a great resource for their families! So check out their reviews
here
.
Disclaimer: I received the above mentioned product in exchange for writing an honest review. No other compensation was received and all opinions are my own.