A couple years ago at a homeschool convention I happened to stop at a booth in the vendor hall that had absolutely GORGEOUS children's books. The artwork is beautiful paintings, not the silly drawings that are so often used for children's books. I didn't have the money to purchase any of the books, but I have to admit I wandered back by several times during the convention just to flip through them, and they stuck in my mind.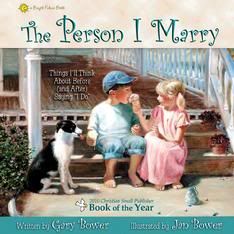 Fast forward to this year's crew, and we were give the opportunity to review
The Person I Marry
from
Bower Books
. As soon as I clicked through to their site on the review interest form, I recognized the books as the beautiful ones I'd seen in the vendor hall, and jumped at the chance to review it. I have to admit, I was disappointed to find out that, rather than a downloadable ebook, we received a link to an online version of the book. But at least we were able to read and enjoy this BEAUTIFUL book!
Since the twins are currently in a "we're too old for picture books" phase, I told them before we started that yes, this is a picture book, and yes, little kids would enjoy it, but it also has a message for older kids, kids their age, and even teenagers and young adults. I don't know if my comments "worked" or if they were as enthralled by the beautiful artwork and lovely text as I was, but they listened to it without any complaints.
The author did a good job of keeping the book applicable to boys AND girls. So my girls spent the whole book trying to decide "who" was talking, a boy or a girl LOL.
At the end of the book, when I asked the girls about it, they not only said they loved it, but decided they each need their own copy. The back page of the book is a lined page that the child can list his or her own list of traits to look for in a husband/wife, and that was the reason each girl wants her own. We talked about how they also wanted to be able to sit down with the book on their own and read through it more slowly, thinking about each trait that is mentioned and how it applies to their life. And so, this book is going on their Christmas lists this year. A copy for each of them, and possibly one for Little Bit as well, though I may wait a couple years to get her her own copy.
This book absolutely is NOT just for homeschoolers!! It's a lovely book that can be enjoyed by little children, tweens, and teens. Actually *I* enjoyed the book as well, did I mention I love the artwork? But obviously it's abit late for me to be considering the traits to look for in a husband ;-)
It's a nice flowing text to read aloud, and, as I mentioned, my girls, who love to be read to, specifically said THIS book was one they wanted to be able to hold and read on their own as well.
The Person I Marry
is available on the
Bower Book website
for $11.99. Be sure to take some time to look at all the other beautiful books available, with topics ranging from Heaven to friendship to adoption.
Also stop by the
TOS Crew blog
to see what my fellow crew mates have to say about this lovely book.
Disclaimer: I received access to an online version of this book in exchange for writing an honest review. No other compensation was received and all opinions are my own.