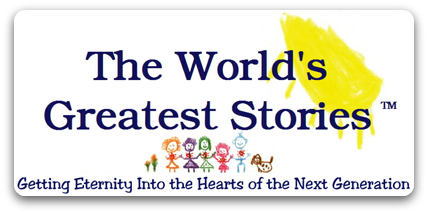 I have to admit, I'd never even heard of
The World's Greatest Stories
when the review came up, but it only took about 30 seconds of reading what it was for me to say SIGN ME UP!!! This is the greatest concept I've heard in a long time!! Actor, George W. Sarris reads stories directly from the Bible (available in either KJV or NIV, we chose KJV), but does it with so much expression, and some sound effects in the background, that it is a fun story that keeps children's (and adults') attention.
We were sent Volume 1: The Prophets, to review. I didn't tell the girls anything about it beyond, "Here's a CD of Bible stories for us to review". After we'd listened to it, I told them it was word-for-word from the Bible and they REFUSED to believe me!! We had to re-listen to it with the Bible in front of them, for them to see that it really WAS word for word! (I have to admit, I wanted to "check it" myself, it's amazingly well done!). Another bit of "trivia" that I found fascinating, is that Mr. Sarris MEMORIZIES the Bible passages he performs!
When I asked the girls what they thought of it, after they'd confirmed that the website wasn't "lying" and it really was straight from the Bible, they said they liked it, but would rather hear their favorite Bible stories. So I think a couple other volumes will be on our shopping list in the near future (really, when my child asks to hear the Bible, and the CDs are only $7.95 each, how can I refuse?!?!).
While obviously this can be used as a part of Bible class in homeschooling, this is a great product for all families!!! We have been listening to it in the car as we do errands and such. It would also be a great choice for family worship or for a younger, non-reading child to use for their personal Bible time (for that matter, an older child could use it that way as well, just because a child CAN read doesn't mean s/he has to every time).
The website suggests these stories are for children age 4 and up. I would argue that they are most definitely NOT just for children! I have to admit that, since we have been in the car alot and having an audiobook of some sort on helps to keep the big girls quietly entertained while Little Bit naps, we listened to this CD during her naps, so I can't say for sure what a 2 year old would think of them. But I do think that, one story at a time (to not exceed her attention span), she would enjoy these stories too. So, while perhaps not something I'd purchase for a 2 year old, I do think it's something the whole family, including the littles, can enjoy together.
Be sure to check out the
website
, where you can listen to audioclips for yourself.
Also check out the
TOS Crew blog
for other reviews of these products!