F
ingers can have lots of
F
un
F
eeling different things with Sensory Play! And as we move toward cold, stay-inside-more weather, sensory play can be a real sanity saver for mom, as well as beneficial for kids!
I'll admit, up until now I haven't done much structured sensory play with my kids, beyond sand play, a form of sensory play that we all have probably done at some point. It continues to be a good one!
For winter, you can fill a small plastic under-the-bed box with sand, and set it on a plastic table cloth to let your child have an "indoor sandbox".
When Little Bit wanted to "do school" at age 3, I turned to sensory play as an element for "school" for such a little one, and introduced the
bean bin
. She still remembers them fondly :)
More recently, the combination of continuing to read about the benefits of sensory play on countless homeschool blogs, and the fact that, with our neighbors joining us for school part-time, I have more little ones, and more varied personalities, to consider, I'm finding that sensory play can be something that all of the children enjoy, and I feel it helps with school overall. Sometimes I'll set kids up with something sensory while I read (the challenge with that when the neighbor boys are here, is that all 3 littler ones want to talk about what they're playing with instead of listening to what I'm reading, so that works better when it's just my 3.
Last month, on a warm day, we had a fun sensory table with baking soda, vinegar, and water in the old sand and water table. E & J were spending the afternoon with us that day and it kept the 3 little ones busy for half the afternoon!
A few weeks ago for
science
we mixed cornstarch and water. It was showing states of matter, but it was also addictive . . . all 3 girls, and I, were fascinated with that one!
Another brief, un-planned sensory experience, thanks to science class happened last week when we mixed hydrogen peroxide, dish soap, food coloring, water and yeast in an empty water bottle and let it foam out into a bowl. Little Bit and E had great fun "turning into smurfs" for a few minutes before we rinsed it off. The big girls didn't want to be anywhere near that one because it smelled . . . odd, and they didn't like that.
While I was sick I needed something to keep Little Bit quietly occupied so I could rest, so I pulled out one of the sensory activities I had planned to use sometime during our current preschool unit (Water in Our World) anyway. For awhile now I've seen bloggers raving about how fun
water beads
are for sensory play, but I must admit, I was somewhat skeptical, but I bought a pack and figured we'd give it a try.
We put sea glass, marbles, "jewels" (the little flat marble thingys for putting in vases) and clear
water beads
in a 9x13 baking dish and added warm water (it was a chilly day, warm water was nice . . .). Then I told Little Bit to go get some of her plastic "ocean animals" . . . she has a broad definition of "ocean animals" but whatever makes her happy.
I intentionally didn't tell any of the girls what the water beads were supposed to do (when you get them, they are tiny (smaller than bb's) hard little balls). Little Bit enjoyed playing with her animals in the water and stirring around the sea glass and marbles for awhile, then suddenly said "Mommy! These are GROWING!" after that, we were all pretty fascinated, over time, the water beads grew to the size of the marbles, which makes it fun because they look the same but one's hard and one is like really stiff jello. The water beads absorbed all the water, but she continued to have fun with the beads, marbles, and animals for a couple more days.
Some additional sensory play that I have planned for this winter includes:
Arctic play - freeze some containers of water and pop the "icebergs" out, then float them in a dish of water and let the kids play with the plastic ocean/acrtic animals on the icebergs.
Jello - I'm going to put the plastic ocean animals and some marbles/sea glass/jewels in the bottom of small plastic containers (knowing the kids involved, I suspect that small, individual ones will work better than a big shared bin). Then mix up some plain gelatin with blue food coloring and pour that on top. Let the kids dig through the jello to "save" the animals and such.
"Snow" - I'll let the kids mix up their own moon dough (water and baby oil), and then make mini snowmen or whatever they want.
So those are some fun sensory activities to keep children busy during cold winter days :)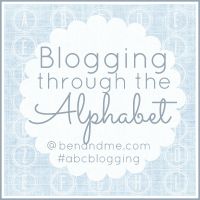 Blogging through the Alphabet at BenandMe.com