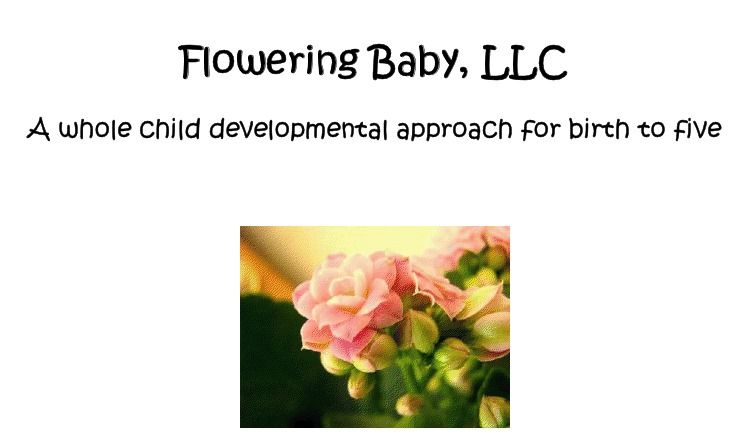 Flowering Baby
is a fun curriculum for children age 0-5. It is designed to be started at any time, based on your child's age.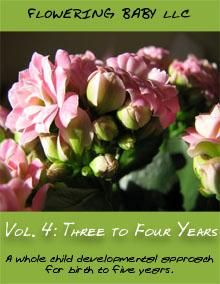 Since Little Bit is 3, I chose to review the
Three to Four
year old Curriculum. This curriculum is available for $38 from the
Flowering Baby Store
, you will also find information on that page about ordering it as a direct download. The Three to Four Curriculum is set up with the monthly curriculum guide, as well as a Themes Guide, that includes 24 short themes. The suggestion is that, at whatever point in the year you start, you begin with that calendar month of the curriculum and cycle through for the full 12 months. Additionally, you can choose 2 themes from the theme guide each month. There are recommendations for which themes to use with which month or you can mix it up according to your child's interests. If you would like to see a sample of a full month of this curriculum, you will find the link at the bottom of
this page
.
Since we received this in early January, we started at the beginning of the curriculum guide. Since we are also using a different preschool curriculum, I looked over the themes and chose a theme that would correlate with that curriculum as well.
As soon as I began reading through the curriculum guide, I realized that some tweaking would be necessary for it to work in our family. Mainly, this was adapting for Little Bit's current level. It seemed beyond silly to me, to sit and count to 5 with Little Bit when she can count to 30 on her own, so we skipped that ;) Another necessary, on-the-fly tweaking was the fact that Little Bit tends to either not have any interest in sitting for a story, or wants the same story over and over and over and over and . . . you get the idea. At this age, I feel strongly that the best way to squelch the love for reading is to force it, so I got the recommended books from the library, but let her choose which ones we read, and then we did activities from that book on that day.
One thing that I found confusing was the fact that, starting in January, the curriculum DOES build on itself . . . later in the curriculum, instead of counting to 5, you count to 10, for example. So I'm abit unclear on how that would work if you were to start in the middle. . . it doesn't make sense to me that you would count to 10 with the child when you started in June, but then the following January, drop back to just counting to 5. My recommendation would be, if you're starting anytime other than January, to look over the whole curriculum, use season-specific activities as recommended, but the basic counting and alphabet stuff, if you're using it (I also feel pretty strongly in not pushing academics at this age, so another option would be to skip these unless your child shows an interest).
There are some fun activities in this curriculum. All 3 girls were intrigued when I said we were going to make snowmen one day (when there wasn't any snow outside), and all three had a blast making styrofoam ball snowmen.
Little Bit's snowman is in the middle, it's abit . . . abstract, but she had great fun making it and could explain what each thing was.
I think, if I'd followed the suggestions, verbatim, Little Bit would have found it frustrating and (her current favorite word) "boring". However, by knowing my child and picking and choosing the activities that made sense for her development, personality, and interests, we were able to enjoy some new books and ideas that we gleaned from the curriculum. I think, at this age, in most cases, you CAN just follow their interests, or not start anything formal yet. But, if you have a young child who is begging to "do school", and you don't have time, or inclination to have to hunt down books and activities on your own, this would be a good option to give you lots of age-appropriate ideas for books and activities.
Don't forget to check out what my fellow crew mates thought about this product, including the other ages,
here
.


Disclaimer: I received a free copy of this product through the Schoolhouse Review Crew in exchange for my honest review. I was not required to write a positive review nor was I compensated in any other way. All opinions I have expressed are my own or those of my family. I am disclosing this in accordance with the FTC Regulations.