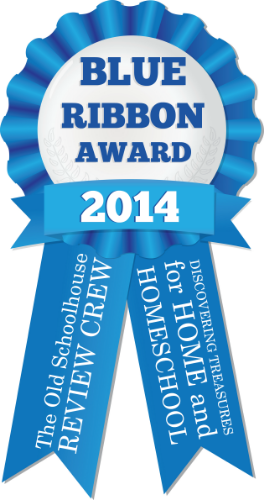 Four and a half years ago, with two seven year olds, I started reviewing homeschool products for the Schoolhouse Review Crew. Over those 4 1/2 years we have reviewed soooo many amazing products. We have been blessed to use products I never would have heard of, products, we couldn't afford, products that I never in a million years would have dreamed would work for us, that were just what we needed. I semi-jokingly said that our homeschool method was "review schooling". It exposed us to different learning styles, different subjects, soo many things, and it was so perfect for us. So it was difficult for us to decide, this fall, to take a break from reviewing next year. Lexie and Ashlyn have more things they're working on, or want to be working on, than they have time for, so we need to focus on that for the next while. Little Bit is still too little to be reviewing much. So we're taking a break. And this time next year, we'll re-evaluate, and, perhaps, re-apply. . . but for now, you'll be seeing alot fewer reviews in this tiny corner of the internet.
But, before we completely close this chapter, I had to share. As they do at the end of every year, the Schoolhouse Review Crew has posted their
Blue Ribbon Awards
.
And I thought, along with sharing the Crew's Favorites, I'd share our favorites from this past year as well.
Favorite Literature Curriculum:
Jim Hodges Productions
Favorite Writing Curriculum:
Write Shop
Favorite Grammar Curriculum:
Fix It! Grammar
Favorite Language Arts Supplement:
IXL
Favorite History Curriculum:
Veritas Press
Favorite Science Supplement:
Purposeful Design
Favorite Math Supplement:
Science and Math dot com
Favorite Foreign Language Curriculum:
Mango Languages
Favorite Fine Arts:
ARTistic Pursuits
(but
Kinderbach
and
Maestro Classics
were close runners up)
Favorite Christian Education Curriculum:
Apologia: What on Earth Can I Do?
Favorite Christian Education Supplement:
New Liberty Videos
Favorite Preschool Curriculum:
Kinderbach
Favorite Middle School Curriculum:
Veritas Press
Best Resource I Didn't Know We Needed:
My Student Log Book
Best Digital Resource: :
Veritas Press
Favorite Audio Book:
Jim Hodges Productions
Favorite "Just For Fun" Item:
Learning Wrap Ups
Little Bit's Favorite:
Kinderbach
Ashlyn's Favorite:
Grammar of Poetry (Roman Roads Media)
Lexie's Favorite:
Heirloom Audio Productions
My Favorite:
ARTistic Pursuits