A couple of years ago, we had the pleasure of reviewing a
science video
from
ScienceandMath.com
. We LOVED it! So I was excited to see the company on the list of vendors again this year. Since we'd already reviewed the science video, I began exploring the math videos they were offering. After watching the online samples, and looking at what each video included, I decided on
Algebra 1: Volume 1
. In addition to the Algebra 1 physical DVD, we also received a digital download version of the
Fractions Thru Algebra Companion Worksheet CD
.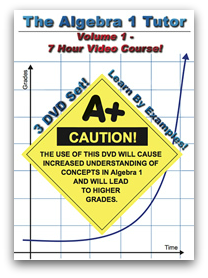 The
Algebra 1: Volume 1
is a set of 3 DVDs that provide 7 hours of step-by-step instruction. This course is intended for students in grade 7 and above. The videos show Jason, the same host we met in the science video, explaining the concepts of algebra, starting with real numbers and their graphs and working lots of example problems. The companion worksheets are organized by track on the DVD, so it's easy to know which worksheet to print to go with each lesson. The worksheet file also includes and answer key with step-by-step solutions. The DVD set is available for $26.99 or as a download for $23.99. The companion CD is available for $24.99 or as a download for $21.99.
We don't use grade levels in our homeschooling, so I'm not sure what grade level Lexie and Ashlyn are at, but I could tell from the sample video clips on the website, that the beginning information wouldn't be above their heads, and that it moved systematically enough that they should do fine to move forward from that point. The video is designed, based on things Jason says on the video, to be used to reinforce what's being learned in school, however we found that it worked fine as a stand-alone product. I found each track of the DVD to be too long to watch in one setting, so we would watch part of a track and then stop for the day and I would print out the corresponding pages of the worksheets for the girls to do before moving on to the next section. This worked well, and because the worksheets present concepts in the same order as the DVD, it was easy to break things down into smaller sections.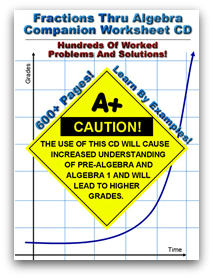 We moved pretty slowly, to make sure the girls fully understood each concept. While Jason explains things in a very thorough, step-by-step way, Ashlyn wants to know WHY everything works, she won't take anyone's word for ANYTHING. So, for example, when Jason says that, when multiplying 1/5 x 5/8 (or something like that), the 5s cancel out, she wasn't about to take his word for that, and I got to spend the next couple of hours (literally) figuring out a way to help her see WHY that worked. I had an excellent algebra teacher in high school, who found it very frustrating that I was good at math, but had no interest in doing anything beyond the minimum I was required to do. I would LOVE to get him and Ashlyn together for a couple hours, either he would adore her, and all her questions, or he would repent of his frustration with me LOL.
Needless to say, the fact that Jason doesn't going into the painfully detailed explanations that Ashlyn requires is not, at all, a bad thing, it just meant that WE moved slowly through the videos, and it challenged my memory of concepts LOL. For a more typical child, there would need to be very little parent involvement. Certainly by the suggested age of 7th grade and above, I would expect this to be something the child could do completely independently. With a motivated student, she could even check her own worksheets with the included answer key, and it would allow her to see where she had gone wrong on the problems she missed.
Despite it not being as detailed as Ashlyn would have liked, she did like the videos overall, and asks when we're going to do Algebra each day. As we moved beyond real numbers and fractions, and into actual algebra, she commented " Algebra is kind of like Jeopardy, it gives you the answer, and you have to figure out the question." I thought that was a pretty good observation :) Lexie isn't as thrilled with it, I think because it is challenging her, and she's used to things being easy, so she doesn't react well to challenges.
Overall, I am very impressed with this program. It is a great way to reinforce the concepts for a student who is struggling with algebra using a different curriculum (either homeschooled, or in school), but it also seems to do a good job all on it's own. I highly recommend it!
Visit ScienceandMath.com on
facebook
.
Click the banner, below, to see what other members of the Schoolhouse Review Crew though of this and other videos from ScienceandMath.com.

All prices and information are accurate at time of posting.