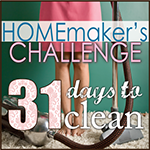 A couple months ago I purchased the
31 Days to Clean
Kindle book, and glanced through it. I loved (and still love) the idea of combining building better habits of time with God right along with building better cleaning habits. The problem I had with it was that the daily challenges seemed to assume my house was already clean and ummmm . . . it's not! Doing deep cleaning in a kitchen where I can't find the countertops seemed . . . overwhelming. So I set it aside for maybe another month. . .
Apparently I wasn't the only one who had that problem, because the author has since added a second set of challenges, available on a "member only" type part of her site, for those who own the book. These challenges focus on building routines of daily home maintenance that I can actually wrap my mind around where I'm at now.
So, fast forward to a new month. And The 31 Days of Clean site is having a
September challenge
! Now, on the one hand, it's a silly time for me to join, because I'm going to be gone for a week or more this month, BUT the reality of my life is, we travel, often. So, I decided to go ahead & join the challenge anyway. I won't be able to do the cleaning part of the challenge when I'm gone, and looking through the list of daily challenges, there are some days when what is asked is ummm . . . unreasonable, given the state of my house, so some days' "next thing" will have to spread out over multiple days, but it's all good. It's laid out in a way that I can tweak it as needed, I likely won't complete the "31 days" in . . . 31 days, but that's ok too.