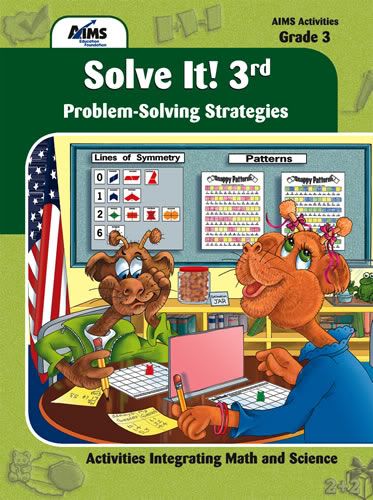 One of the subjects that we are very "unschoolish" about is math. I feel like we learn lots of basic math skills through life, and that learning practical math makes it "stick" better than just memorizing drills. But when I had an option to review one of several math or science products from
AIMS Educational Foundation
, I decided the
Solve It! 3rd
math book sounded like a good hands-on way to introduce a little formal math into the girls' curriculum, at least once in awhile.
I actually chose it, figuring that 3rd grade level math problem solving would be a challenge for the girls (who are "officially" considered 2nd graders this year, though we don't pay a whole lot of attention to grade level around here), and I wanted to see if they could step up to that challenge.
We received the
Solve It! 3rd Problem Solving Strategies
book, including a CD-ROM of printables. As a parent of multiple children I love that this is a resource to be used with multiple children, not a single-use workbook. The book is essentially a "teacher's edition" with teaching tips, etc. And then the "workbook" pages for the students can either be photocopied out of the book or printed from the included CD-ROM. The book gives permission for making up to 200 copies of each page within the same school, which should be plenty for our homeschool LOL. When you consider that it can be used for all of your children, the price of $24.95 is a great value!
This book is not intended to be a complete math curriculum, rather, it is a "supplement" to teach problem solving skills in a more hands-on way. It includes 3-4 activities in each of the following categories:
Use Manipulatives
Write a Number Sentence
Draw Out the Problem
Guess and Check
Organize the Information
Look for Patterns
Use Logical Thinking
Work Backwards
Wish for an Easier Problem
We have jumped around to get a feel for several of these strategies, and all that we've tried have been well within my children's ability, and in most cases they have declared them "easy". Since we don't try to follow "grade levels" per se, I can't evaluate how accurate the 3rd grade recommendation is, some activities could be adapted up or down to some extent, but in general, this is a product that you're going to want to use for the recommended skill-level. That said, if you have a younger child who wants to be involved, in many cases you could probably come up with a related activity using the same manipulatives.
One thing to note is that, because this book was designed for classroom use, many of the activities are designed to be done in small groups and such. We found it easy enough to adapt for our use, usually doing it individually, sometimes forming our own "group" of 3 (Sassy, MiniMe and me). It should also be noted that the book assumes basic math classroom equipment. In some cases a paper alternative is provided in the printables, or described (for example, pattern blocks), but in some cases, additional equipment is needed. An example of that would be a balance scale. If you look near the bottom of the page for purchasing the book, you can see the "Related Products" to get an idea of what other items you might need to purchase.
I would consider this more "school-like" than most of what we choose to do, but it's hands-on enough that the girls have been enjoying it. The amount of writing required is less than ideal for kinesthetic and auditory learners, but can be easily adapted by discussing rather than having them write out their answers. The hands-on approach is ideal for kinesthetics, but can be beneficial for all learning styles.
While we've enjoyed the activities, I think this product would be more beneficial for someone with a more "school at home" approach, who is looking to add something more interactive to supplement their math curriculum. In my experience, unschoolers and others toward that end of the spectrum, have generally figured out the whole "problem solving" thing on their own so probably wouldn't feel the need for this product as much.
In addition to the book we reviewed,
AIMS Educational Foundation
offers a wide variety of math and science products. Check out the
TOS Crew Blog
to see other reviews of this and other products that AIMS Educational Foundation offers.

Disclaimer: I received the above mentioned product in exchange for writing an honest review. No other compensation was received and all opinions are my own.