Lately we've been struggling a LOT around here with the concept of putting others first. I think it's a combination of the age, and, of course, the society we live in. Even though they are much more "sheltered" from modern "look out for number 1" views than they would be if they were in school, it still seeps in. So, when I got to the chance to review Apologia's Bible curriculum "
Who is My Neighbor?
" I thought it sounded like a good fit.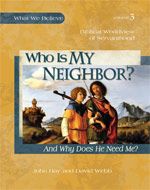 This is actually the 3rd in Apologia's "What We Believe" series. The first two are "
Who is God?
" and "
Who Am I?
", this is the first that we've had the chance to review. The What We Believe Bible Curriculum is designed to be used for the whole family, with a suggested age range of 6 to 14. I would guess that some 4 & 5 year olds would also enjoy it, though my 3 year old isn't ready to sit still and listen yet, she's not even a big fan of picture books though, so I wasn't expecting her to be ready for this LOL. The curriculum consists of 8 lessons. The suggested schedule is to use the curriculum 2 days per week, with each lesson divided up such that it takes 3 weeks, or 6 lessons. We decided to use the curriculum every (school) day during the review period in order to get a better feel for it in the time allowed. That said, we did miss some days, especially during camp meeting.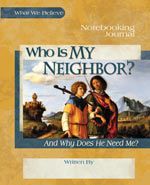 In addition to the Who is My Neighbor textbook ($39), we also received the related Notebooking Journal ($24) and Coloring Book ($8). Since we received one journal, and were using this with 2 children, I opted to just have them both use regular notebooking pages that I printed off, rather than the journal. Additionally, my children are still young and struggle with lots of writing, the journal is either going to include a lot of blank pages or the child will do a LOT of writing. All of the "discussion questions" that we choose to discuss together orally, are included in the journal, as are vocabulary words, etc. It should be noted that in addition to the "assignments" included in the textbook, the Notebooking journal also includes crossword puzzles, word searches and "lapbook" style, "Minibooks" for each lesson.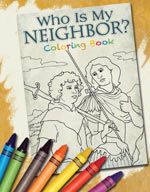 We also opted to not use the coloring book at this time. The older girls have never been real big on coloring, preferring, even as preschoolers, to draw their own pictures, rather than color pre-made pictures. And again, with the one book, two kids thing. While I sometimes will print a "coloring page" for Little Bit to scribble on, since she does primarily scribble at this age, I didn't want to hand over a nice, complete coloring book to her to scribble on. The coloring book is well-done, and looks fun to color (and while my children aren't big on coloring books, *I* love to color, always have, so I can pretty quickly judge whether or not a coloring book is worth coloring in or not LOL). My current thought is that we'll revisit this curriculum in a few years when Little Bit is in the 6-9 age range and at that point, she can use the coloring book and the older girls (who will be 12-15 at that point) can look at the journal and decide if either one or both of them would like to use it, it's beautiful, and would result in a wonderful "keepsake" of the study, if the child enjoys journalling and writing. If they both want to use it at that point, we can order another one.
So, what did we think? While I can't say that we've solved the "me first" attitude issues, we've been having, the girls are enjoying it, and when I told them, this week, that our review period is complete and we can decide if we want to continue with this curriculum or not, they both voted to continue using it. I figure that's a pretty good recommendation. Overall, I've been happy with it, I find the layout/structure to be challenging . . . Each lesson is long, designed to be divided into 6 "classes". I find that I constantly have to refer back to the suggested "layout" or "lesson plan" in the front of hte book to figure out what we're supposed to do next. We're actually following this curriculum pretty closely to the "recommended way" (rare for us LOL), other than using it every day instead of 2 days per week. While I expect to have to jump around in a lesson when I "tweak" things, I am finding it frustrating that I can't just go straight through without having to "think about it", when I'm using the book as suggested. I also find that some days are much "longer" than others. The first & last day of each lesson each involves a LOT of reading, and I often divide them into 2 days to keep it from being too long for the time we have, the childrens' attention spans, and the amount of time I can expect Little Bit to self-entertain while I read to her older sisters. The 2nd day is quite short, and, in many cases, seems to have little real "religion" in it, often being more cultural trivia and such, which, while interesting, I don't find to be a good use of our "Bible time" (I'm pretty picky about making sure that Bible time is truly Bible focused, so finding a good portion of one day's reading to be a description of various types of public transportation, doesn't really excite me). Going forward, I'll probably be dividing large reading days into multiple days, and skipping much of the cultural notes type information.
This is a curriculum that can be used in a structured/formal setting, a "family worship" setting, or even handed to an older student to read and use as a personal Bible study, on their own. I'd recommend you at least look into this series if you're in the market for a new Bible curriculum.
You can see what my fellow crew mates thought of this book,
here.
Disclaimer: As a member of the Schoolhouse Review Crew, I received the above mentioned product in exchange for writing an honest review. No other compensation was received and all opinions are those of myself or my children, as stated.