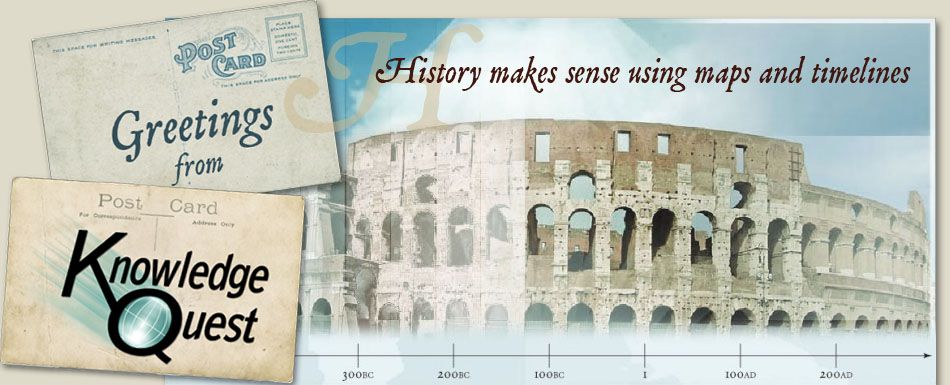 As you've probably figured out, we LOVE LOVE LOVE history around here!! So any time a history review product comes along I'm generally jumping up and down. This one, I did, pause slightly on, because it's world history, and we are thoroughly immersed in American History right now, but I just couldn't pass up the chance to check it out.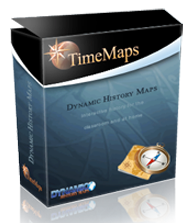 So, what is this? THIS is
TimeMaps
from
Knowledge Quest
. You can download it directly onto your computer ($44.95), or purchase it on CD-ROM ($49.95). It's a set of 7 electronic maps. Each map is for a specific time/event in history. For example, the Rise of Rome, or the Black Death. You can see the 7 maps available, and purchase them individually,
here
. When you open the map it begins at earliest point in that specific history. There are place names, and other relevant things on the map. Clicking on an "i" (for information) at the top of the map means that you can then click on small "i" icons in various parts of the map and to open boxes that gives information about that specific place/event/person. You can also click on boxes that will animate the map to show trade routes, etc. In addition to the map, there are teacher helps and student worksheets to go with each map.
This was abit challenging for us to use, simply because it is all world/non-American history (it would be awesome if they had these maps for the Revolutionary War, Civil War, Westward Expansion . . . ). So, we weren't able to incorporate it into our normal history. I had fun playing with it familiarizing myself with the product for review purposes for several days before I even showed it to the girls. I decided that, while it works fine on my little netbook, for demonstration purposes, and so that we could all see it better, we should use it on my husband's big laptop (and I do mean big, he and I have an ongoing argument on what the preferred attributes of a laptop are, he wants the biggest one he can find, I tend to think laptops should be . . . portable LOL). Anyway . . . so I handed the CD to dh and asked him to set it up on his computer for us. And then he wouldn't give it back!! HE played with it for awhile, until I pointed out that we didn't have to give it back, so he could play with it whenever he wanted but could we PLEASE go on with school right now?
So after all that, my poor, deprived children finally got to check it out. It took a little while to get them into it, since they aren't very familiar with world history. Once they understood what it was all about, they didn't want to stop. I finally had to tell them that, I was very sorry, but no, we couldn't learn the entire history of Rome in one sitting.
So, since we're immersed in American History right now, that's how we "used it" for now. HOWEVER . . . when we finish American History (which is going to take at least another year at the rate we're going), we plan to start learning World History, and THEN we will really dig into this program and I can NOT wait!! Using this as an "accessory" of sorts to a great, living books, history curriculum will be amazing. To learn about Alexander the Great and then come to this map and be able to watch the Greek Empire spread across the Persian Empire, will be so much more meaningful! This is a great supplement to absolutely any World History Curriculum, I can't think of any style it wouldn't work with! Even radical unschoolers could put it on their computers for the kids to play with :)
And while you're on the
Knowledge Quest site
checking out these awesome maps, be sure to poke around some more, they have TONS of amazing looking products! Some of my fellow crew mates got to review the
MapTrek ebooks
. So be sure to head over to the
Crew Blog post
to see what others thought of both TimeMaps and MapTrek.
Disclaimer: As a member of the Schoolhouse Review Crew, I received the above mentioned product in exchange for writing an honest review. No other compensation was received and all opinions are those of myself or my children, as stated.