If you're a regular reader of my blog, you may be saying . . . wait, a minute, I've seen the
Kinderbach
logo before! And you'd be right. This is our THIRD time reviewing
Kinderbach at Home - Online
, and I think I like it better every time we use it! The
first time
we reviewed this, it was with the older girls when they were right on the edge of being "too old" for it.
Last time
, was with Little Bit when she was a few months shy of age 3. This time Little Bit is getting to use it again and she's actually IN the age range (3-7)!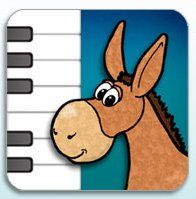 Kinderbach is an online piano curriculum for young children, using fun songs and characters to make learning fun. Each lesson is very short (just a few minutes long), lessons include games, printable activity sheets, and/or using the piano keyboard. So, in addition to your online subscription (or the lessons are also available as DVDs or an iPad app), you will need to be able to print the activity sheets and you will need access to a piano or keyboard. The first year we reviewed this we purchased an inexpensive keyboard, which worked well. Now that MiniMe is taking piano lessons we have my grandma's piano for her to use, so Little Bit gets to use it too.
As soon as I opened the program this year, Little Bit got excited and said "Dodi!!!" She remembered Dodi the donkey (who lives on the D key) from last time AND could still find "Dodi's house" on the piano.
This year some members of the crew got to review Kinderbach's new iPad app. I got my iPad a week or two too late to sign up for that, so we reviewed the online program (I can't wait to read the reviews on the iPad app though!), still, I did end up using my iPad most of the time. I just accessed the program through my web browser. It was still easier for her to watch the lessons, and take them with her to the piano, on the iPad, it worked great!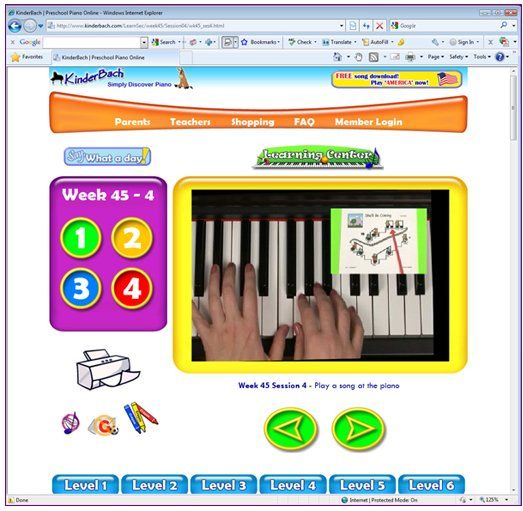 One thing I continue to love about this program is that the lessons are VERY short! They are technically designed to be done one lesson per day, but as in the past, Little Bit almost always begged for "more more more!" and we typically do several days-worth at a time. This is great, IMO! It's very easy to do "one more lesson" when they are so short, and it means that children with a short attention span aren't complaining that a lesson is too long!
I could definitely see how much more quickly Little Bit picked things up this time, and she was more "into it". Coloring the pages as instructed, and such. While I think a younger sibling can enjoy this if you have the subscription anyway, I do think the recommended age range is SPOT ON for this one!! Of course, while the older girls were starting to outgrow it 2 years ago when they reviewed it (and were right at the top edge of the age range at that time), they had great fun this year "helping" Little Bit. And that was so nice for me! I could bring it up on the iPad, hand it to one of the big girls and, as long as I'd printed out the activity sheets ahead of time (I generally print a couple weeks at at time and keep them in my school planner, it's just easier), I could get other things done while they helped her with her Kinderbach. And of course, it's MUCH more fun to do things with big sisters than with boring old mommy, so it was a win-win all around!
If you're looking for a fun way to introduce your young children to music, this is a great product, and there are options to fit every family and budget. The product we reviewed is an online membership, accessible on your computer, or through the browser on your iPad or smart phone. A one year membership for this is $95.88 which works out to be only $7.99 per month!! Or you can pay $19.99 per month, billed monthly. Alternately, there are DVDs that come in various packages, you can see them
here
. Or the new
iPad app
, be sure to read the
other crew members' reviews
to see what they thought of it!
Disclaimer: I received a free copy of this product through the Schoolhouse Review Crew in exchange for my honest review. I was not required to write a positive review nor was I compensated in any other way. All opinions I have expressed are my own or those of my family. I am disclosing this in accordance with the FTC Regulations.