You probably know by now, if you've spent any time on my blog anyway, that we LOVE LOVE LOVE books around here. So anytime books come up for review, I get a little giddy, even before I look at the specific books.
This one presented an interesting problem though. When I looked at the list of books available for review from
Grace and Truth Books
, there weren't very many that I could even consider, even though they had generously provided a list of TEN choices! Why, you ask? Well, obviously, one reason for the variety is different age ranges, and different genders, so that ruled out a few, but the bigger problem was that so many of the books that were for 9 year old girls already live at our house!! While I didn't recognize the company, I'm obviously already a fan of their books! (I think I've purchased the books through other homeschool sites instead of direct).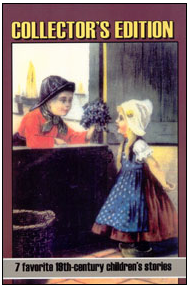 So, that narrowed things down dramatically, and we finally decided on the
Collector's Edition: Seven Favorite 19th-Century Children's Stories
.
This paperback books is a collection of stories that were published in the 1800s by the American Tract Society. We chose to use this book for our bedtime stories.
We enjoyed these stories on two levels. They are nice stories, teaching nice moral lessons without being too terribly "preachy". But, because they are well over 100 years old, they also provided some interesting "social studies" lessons for us, as we discussed what some of the unfamiliar terms meant and why, for example, it was considered terribly sinful for Herbert to go for a walk instead of going to church (while we attend church regularly, we also love to worship God through nature, so nature walks are a fun part of Sabbath when the weather, and our schedule, cooperates).
Another interesting history lesson woven into these stories was the fact that Sunday School used to actually teach academics! The girls were very confused when a story alluded to that, so we took a few minutes to talk about the history of Sunday Schools :)
The recommended age range for this books is 8-14. I think this is accurate. Because of the stories being so old, I don't think any younger than 8 would understand the big, sometimes archaic, words, or the no longer common in our lives, concepts. But since the stories were originally written for children, much older than 14 would probably find the stories too "young". Of course, *I* loved the stories, but I've always been a collector of classic children's literature, so this is right up my alley!
This book retails for $7.50, which seems very reasonable,
AND it's currently on sale for $6.50, even better!
Before you rush over there and buy this book, be sure to check all th
e other crew reviews! A
s I mentioned we had the choice of 10 products to review and I can vouch for the fact that many of them are excellent! But go read all the reviews and then start adding stuff to your cart, it shouldn't be too hard to get to $49 and get free shipping!
Disclaimer: I received a free copy of this product through the Schoolhouse Review Crew in exchange for my honest review. I was not required to write a positive review nor was I compensated in any other way. All opinions I have expressed are my own or those of my family. I am disclosing this in accordance with the FTC Regulations.