I grew up hearing Missionary Stories, and my kids have enjoyed those same stories. BUT, I have to admit, when I think of "Missionaries" I tend to think of how things were 50+ years ago. So, when we were given the opportunity to review some videos about a MODERN Missionary family, I was thrilled!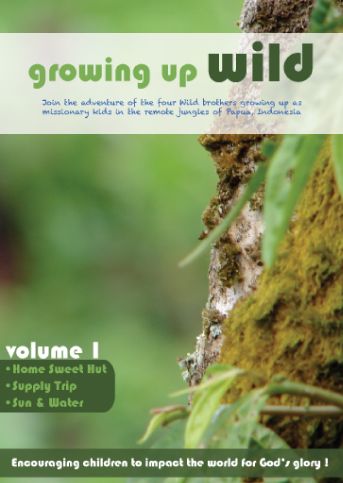 Growing Up Wild
is a series of 5 videos, made by the Wild family, about life as a missionary family in a remote part of Indonesia. We were sent
Vol 1
and
Vol 4
. Each video includes 3 episodes. Each episode is approximately 15 min. long. At the end of each episode there are several suggested activities to go along with that episode. The suggested activities are also available as a .pdf on the included, Activity Guide CD.
The videos are targeted at ages 5-12, but I found them just as fascinating as the kids did. So perhaps, more accurately the ACTIVITIES are for ages 5-12 (though some of them, like thinking about how you would plan for a supply trip, if you could only go to a store a couple times a year, are probably good exercises for all of us!), and the videos are great for the whole family.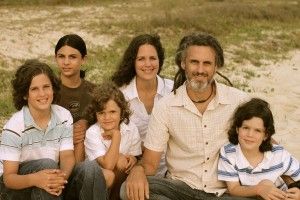 We received these videos in a 2 week window between trips, so we chose to watch the videos all the way through and, for the most part, talk about the activities we would do when we revisit them later. When we revisit them, hopefully later this winter, though we've had some curve balls thrown at us recently, so life is abit unsettled at the moment, I plan to have us watch one episode per week, then really dig into the suggestions in the activity guide, and answering any other questions we might come up with. When used in this manner, the price of $18.99 per DVD, or $80.99 for all 5 DVDs, becomes very reasonable! That is 15 weeks of curriculum for under $100!!!
The girls LOVED the videos, we were all fascinated to tour the Wild Family's house, travel with them on a supply run, learn about the culture they live in, etc.In most cases there were one or more of the suggested activities that the girls were excited about as well, which is always a good thing :)
I would have liked to get a better understanding of what the actual "missionary work" this family is doing, entails, but perhaps that is addressed more on one of the other videos. Regardless, these videos are a wonderful, fun way to learn more about missions, culture, and God!
To see what my fellow crew mates thought of these videos, click
here
.

Disclaimer: I received a free copy of this product through the Schoolhouse Review Crew in exchange for my honest review. I was not required to write a positive review nor was I compensated in any other way. All opinions I have expressed are my own or those of my family. I am disclosing this in accordance with the FTC Regulations.