I always get excited when I see
Apologia
, pop up as a review item, I've loved everything I've reviewed for them! And I got REALLY excited when I saw that this time it was another book by Sarah Clarkson. I've loved everything I've read that her parents have written, AND that she's written. But then I was bummed . . . this one is for girls ages 12+, and my girls are only 9, sigh . . . but I wanna read it! Then I read the information a little bit closer, and it said we could go ahead and apply if we had younger girls, so I did! I read the
sample chapter
, and looked over the
table of contents
, and decided that this would work well as a book to read together with Sassy and MiniMe even if they were a couple years below the recommended age. And we got to review it!!! Woo-hoo!!!!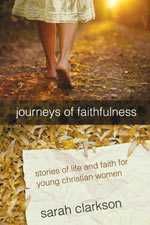 Journeys of Faithfulness
is a wonderful devotional for mothers and daughters to enjoy together, or for teen girls to read on their own (or for adult women to read). Looking over the above mentioned sample chapter and table of contents will give you a really good feel for this book. It has 3 chapters each about four women in the Bible. Each chapter includes a story from the woman's life, a devotional from Sarah, and a Bible Study section related to the story and devotional.
We used this book for our evening Bible time together. For the most part we spent 2 days per chapter. The first day I read the story, the second day I read the devotional and we went through the Bible study together. A few times due to getting a late start or whatever, we split it into 3 days, doing the Bible Study on it's own the 3rd day.
While I think the 12+ age recommendation is certainly accurate for using this book independently, and probably in most cases, even for using together, we had no problems using it with 9 year olds, and the girls thoroughly enjoyed the book and were sad to see it end. The only real evidence of them being "too young" was a few references, mostly in the devotional thoughts, to things they aren't familiar with yet (Lord of the Rings, and Mr. Darcy, off the top of my head). Since we were reading it together, it was easy enough to provide a brief explanation of whatever didn't make sense, and move on.
I was expecting to enjoy this book with my girls, I knew I enjoy Sarah's writing style, and in general, I love stories that "flesh out" Bible characters/stories, so this book was right up my ally. But I'll admit, I was expecting the devotions/Bible study to be . . . more for the girls than for me. Afterall, this is for girls 12+, I'm WAY past 12! But I was pleasantly surprised. While not being over the girls' heads, certainly not over the head of the target audience of teens. This book spoke to ME in such a real and wonderful way too! God knew what I needed to hear these last few weeks, and brought this book along at just the right time. So, even if you don't have girls the right age, look into this book, look over the chapter, and contents, and consider adding it to your own devotional reading!
One aspect we didn't use, because of using this together, but that I like, is that, in addition to room in the book to write in your answers to the Bible study quetions, at the end of each chapter there are a few "journal pages". In a few years, I may re-introduce this book to my girls, and get them each their own copy (if they want), so they can go back through it during their personal devotion time and write down their own thoughts.
This book is available for $13. While you're looking on the
Apologia site
, look around, there are lots of other great books there, you can read about the ones I've reviewed,
here
.
To see what my fellow crewmates thought of Journeys of Faithfulness, read their reviews,
here
.
Disclaimer
: I received a free copy of this product through the Schoolhouse Review Crew in exchange for my honest review. I was not required to write a positive review nor was I compensated in any other way. All opinions I have expressed are my own or those of my family. I am disclosing this in accordance with the FTC Regulations.