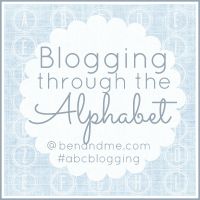 Marcy from
Ben and Me
is starting another round of
Blogging through the Alphabet
. I start this last time, or maybe 2 times ago . . . but didn't get very far into the alphabet before life got in the way and my "oh I'll just skip this week" became 2 weeks and 3 weeks and . . . I never got back to it.
So now she's starting another round, and I decided I'd give it another try. We'll see if I can stick with it better this time.
To kick things off, A is for
To the Arctic
, the Omnimax movie we enjoyed along with everything else at the
Carnegie Science Center
.
Rodney dropped the girls and I off there while he went to work, and we got to spend all day there. The Omnimax movie (like Imax) wasn't exactly what I expected from the description. I thought it would be more about the lives of polar bears, but it was about the Arctic in general. LOTS of breathtaking landscapes (and seascapes), and lots of arctic animals, not just polar bears, though the mama and her twins were awesome! It would have held Little Bit's attention more if it had been more about the polar bears, and less about global warming and such.
The rest of our day was awesome! As usual, we headed straight to the
Sportsworks
building. The big girls LOVE LOVE LOVE it. In the past, there hasn't been anything for Little Bit to do there, which is why if, at all possible, we schedule Carnegie on a day that Rodney can be with us at least part of the time, so he can take them to Sportsworks while I take Little Bit to other things, but that didn't work out this year (we tried, on Monday, only to discover that it was closed due to a Pirates game (they use the parking lot for Steelers and Pirates games, grumble grumble, the girls had many not-complimentary things to say about baseball LOL). BUT Little Bit's big enough to have some fun at Sportsworks now too! Actually she's "big enough" to do most of it, but too cautious to try alot of it. We tried to get her to go on the trampoline, and got her to get harnessed up, but that's as far as we got, before she freaked out. I'm not sure why, Lexie even showed her (during her turn) that you don't have to jump high, but she couldn't quite grasp that you only jump as high as YOU want. Maybe next year . . .
She DID enjoy the "You-yo" where you hold a bar attached to a bungee and bounce around. I wish I'd gotten a picture of her facing me, instead of the staff member, but you can kind of tell that she's grinning, even if you can't see it LOL.
The rock wall is another one that Little Bit COULD do, but won't try yet (can't say as I blame her on that one LOL). The big girls continue to LOVE it though! And, as with the rest of Sportsworks, had it to themselves yesterday! We really had the whole museum to ourselves except for some moms and toddlers, so anything "big kid" related was dead, the girls LOVED it.
Both girls climbed most, if not all, of the climbs on the wall, some more then once, before the day was over.
After our time at Sportsworks we went to the Planetarium for "Big Bird's Big Sky" (or something like that). It was really cute, and a great way to introduce astronomy to young kids, while having enough actual astronomy that, while the big girls probably wouldn't have CHOSEN it, they didn't hate it either. I'm interested to see if Little Bit can "translate" it to our upcoming study of stars for circle time next week :)
Then we headed upstairs to the "Little Kid area", since it was so dead in the "big kid area" I just left the big girls there, where Ashlyn spent most of her time creating animated videos. Little Continues to love the water table. She also spent quite awhile playing "doctor" with their doctor stuff, and putting together the various body system magnetic puzles they have there.
After lunch, it was time to let the big girls choose again. As we'd gone upstairs for the Planetarium and Little Kid area, Ashlyn had noticed an "astronaut thing" that she wanted to learn more about. So we went to check it out. It was pretty cool, they had a thing that simulated weightlessness and they harnessed you into it and had you "fix" the outside of the "space station". The girls had fun with it, and were annoyed that he didn't let them stay up there longer, since there wasn't anyone else waiting. It worked out well, because there was a "rocket" thing for Little Bit to play with while they did it. Plastic tubes that you could velcro various fins and such onto and then an air blaster to shoot the rocket up into the air. I think the "point" was to see how different fin configurations made it go higher or not as high, but she just had fun shooting them off over and over and over :)
We spent quite awhile in the robot area too. The big girls always enjoy trying to beat the robot at air hockey. This time Ashlyn showed Little Bit the thing where you draw a picture of dots on a computer screen and the robot "copies" it exactly using little beads on a grid. She spent quite awhile doing that over and over, and was fascinated that "it does it right EVERY TIME!" LOL.
The changing exhibit area was all about bicycles this time. and along with lots of bikes on display, and a big wheel for little kids to ride, they had a minibike for the bigger kids, and grownups to ride. Both girls spent quite awhile trying their best to master it. Little Bit did too, it was "just her size" but the fact that she can't ride a 2 wheeler was kind of an issue LOL. She thought it should have had training wheels so she could ride it LOL. Lexie did manage to ride a few feet at least once. The staff member helped them with it quite abit, and "encouraged" them that it had taken him weeks to master it so they couldn't really expect to get it down immediately. He also pointed out, and I agree, that if they'd been wearing pants it probably would have been easier, with it being so low to the ground they had to make sure to have their skirts tucked up or they'd drag the ground and get tangled up. They had fun trying anyway LOL.
The Ominmax show and then more time in the Sports area rounded out our day, a great day! The girls all did great with having to "share" time between the big kids and Little Bit. It was fun. While we were there, Ashlyn noticed that something mentioned that there are 4 Carnegie museums in Pittsburgh and asked why we never go to the others. I replied that we're never there long enough, to which she looked kind of confused. So I put it this way "we only had today, if, this morning, I'd said "do you want to go to the Science Center or check out one of the other Carnegie museums, what would you have picked?" the lightbulb went on as she said "ohhh, this one!" SOME YEAR we really DO need to check out the others though, I'm sure they're awesome too!