If you read my blog regularly, you know that last summer during our trip to Boston, the girls got to try on "authentic" (or at least relatively authentic) colonial clothes at Paul Revere's house. This led to us deciding to make them "authentic" (ish) colonial outfits to wear to Williamsburg. And, not only did we accomplish that, with alot of help from my mom, BUT the girls actually did a good bit of the sewing on those outfits (under my mom's guidance, on my mom's sewing machine). AND thanks to all of that, they were hooked, and ready to do more sewing!
So the timing was PERFECT for us to have the opportunity to review
Learn How to Make Doll Clothes Video Course with 8 Free Doll Clothes Patterns
from
Rosie's Doll Clothes Patterns
.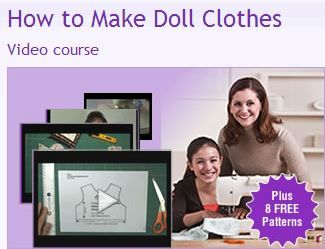 This is an online video course, recommended for ages 8 and up, that teaches you how to sew doll clothes. The 8 included patterns are for American Girl type dolls, though on her site she indicates that if you'd rather have the patterns for cabbage patch dolls, you can e-mail her and she will make that switch. The course is laid out as a 6 week course, and all together it includes over 130 short, online videos. The purchase price of approximately $48 (the actual price is $49.94 Australian dollars, so the US price will vary depending on exchange rates) includes access to all of the online material for 1 year.
The included doll clothes patterns are downloadable .pdf files of printable pattern pieces and brief instructions. As long as you download these .pdfs during your 1 year subscription, they are yours to keep. During the subscription period, you also have access to video instructions for these patterns which are more in-depth than the printable instructions.
So, as soon as we got access to the course, I "cast" the first video from week 1 up on the screen and we dug right in. We moved through the first couple weeks pretty quickly, but by then the girls were asking me "when do we get to SEW?" I was assuming (incorrectly, as it turns out), that when she finished the "preliminary" information she would tell them when to start sewing, and which of the included patterns to start with. But once the girls started asking about it, I scanned down through the rest of the video titles and realized that it doesn't appear that she EVER tells them to start sewing. The entire course is just showing you how to do various things, it never tells you to follow along (that I've seen, I'll admit, I haven't watched all of the more advanced technique videos yet, I want the girls to master the basic techniques first). So, with that realization, we stopped going "in order" and just watched the videos that sounded like they pertained to "basic" techniques.
So, we got all set to start on it, and I got out my sewing machine and . . . the power cord wasn't with it. AAARRRRGGGHHHHH!!!! I haven't used my sewing machine since before we moved last winter, so if the power cord isn't with the machine it must be in some random box SOMEWHERE in the garage. THAT wasn't going to be found anytime soon. Now what?
I had decided, when I signed up for the review, and after seeing how into sewing the girls were just from helping make the colonial outfits, that if this review worked out and got them even MORE into sewing, we'd at least consider getting a better sewing machine for "them" (with the understanding that I could use it too) for Hanukkah this year, but I'd figured mine (really cheap and basic, and 10 years old) would suffice for during the review period, and to see how they liked it all. Now, change of plans. . . talked to Rodney about it all, and then made the girls the offer: Do you want your main Hanukkah gift early? We'll get you a sewing machine (that you'll share with each other, and me, and eventually, Little Bit) NOW so you can sew something during this review, but that means you won't get anything "big" for Hanukkah. They were THRILLED! So after some FAST reading of reviews and comparing prices, we ordered a sewing machine from Amazon, and continued watching the Rosie videos while we waited for it to get here.
FINALLY, it was here! The girls had already set up a whole sewing corner in their room (one of the early videos talks about setting up a sewing area), so once it was here, we got it out, set it up and were ready to go. Since NONE of us had used this machine before, we did a few practice seams and then I turned the girls loose. They did EVERYTHING completely on their own to make their doll sarongs!
The sarong pattern gives two length options, so they chose a longer one, since that's more in keeping with the skirt length we wear. They dug through my fabric bin and interestingly, chose pretty similar fabrics. Since all of the shirt patterns that came with the course are sleeveless, for now they just used clothes they already had for their American Girl dolls, but they've asked that we find shirt patterns WITH sleeves, so we'll have to work on that LOL.
And the finished products:
So, what do we think? A video course is definitely the way to go for my kids to learn to sew without me pulling my hair out LOL. While I can figure things out on my own, I'm not good enough to be able to explain things to teach them without us all getting frustrated. And being able to SEE someone do the various techniques works best for my children.
That said, we found some things frustrating about this course. The big thing, I've already talked about. I was really expecting the sewing of at least one item to be integrated into the main videos of the course. Sitting and watching hours of video without being able to DO anything doesn't work well for my children, and I can't see it working well for any of the children I know. As a non-sewer myself (despite having a machine, I have no illusions that I "know how to sew), I found it frustrating to have to try to figure out which project was "easiest" and then which videos they NEEDED to see before making this project. Another thing the girls found frustrating, especially since they were anxious to sew, is that there is a LOT of repetition. To have one video show "how to use a rotary cutter" and then the next video show 'how to use a cutting mat" is rather redundant. By later in the course, the girls were to the point of seeing a title and saying 'it's going to tell us to do xyz, and she's already told us that in 3 other videos, let's skip that one", and, after a few times of me saying "let's just make sure she doesn't tell us something new", and it being exactly what they had predicted, I just went with it.
Also, I assume, to make sure the videos load on slower internet connections, each video is VERY short, but that makes it all very choppy. If I were purchasing this course, I think I'd opt for the DVDs, just to avoid that choppiness. My other complaint was that she seems to really "sell" the "need" for a lot of "gadgets". I find it interesting that she talks alot about how much money you can save by making your own doll clothes but if you go out and buy a sewing machine, serger (yes, she recommends a serger, an awesome tool, but not cost effective for making doll clothes unless you plan to go into business), rotary blades and cutting mat, and all the other gadgets (that I'd never even heard of) for turning casings and such, you'd have some SUPER expensive doll clothes when it was all said and done. I don't like that, for a program, marketed for children, there's so much emphasis on needing all the "gadgets". Thankfully, my children realized from the start that we weren't going to go out and buy all kinds of gadgets, so they just kind of rolled their eyes at it, but I can see it being an issue with some children.
All in all, there are some great things about this course! If you need short videos, because of your internet connection, and want to make sure that EVERYTHING is video-based, with no need to read text, this is great. She speaks clearly, and shows what she is doing, and is very detailed. If you have basic sewing knowledge, you might be better off buying one of her patterns first and see if the videos that come with it, are sufficient :)
To see what other members of the Schoolhouse Review Crew thought of this product, click the banner below.

All prices are accurate at time of posting.