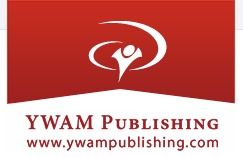 Every year when I go to our state homeschool convention, I pause at the booth selling the Christian Heroes Then and Now books, and try to make room for them in my budget, but I've never managed to do it, I DO have them firmly on my mental wishlist however. So, when
YWAM Publishing
offered to let us review
Jim Elliot: One Great Purpose
and
Jim Elliot: One Great Purpose Unit Study Curriculum Guide
from the Christian Heroes Then and now series, I was thrilled!!!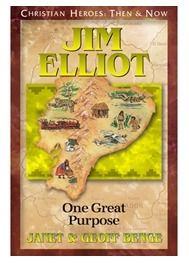 We decided to read the book, and do selected activities from the unit study as our bedtime Bible study. I read the book aloud to the girls, and, while reading it, we tried to find the places mentioned on the map, and mark them on the maps included in the Unit Study Curriculum Guide. After we'd finished reading the book, we went through the rest of the Curriculum Guide, and chose the things the girls wanted to do.
Jim Elliot: One Great Purpose
is available for $6.99 and is intended for ages 10 and up. It is about Jim Elliot, a missionary to Ecuador in the 1950's. It follows his life as he prepared to become a missionary, and then followed his dream and was a missionary, reaching the native tribes of Ecuador until he was tragically killed in an attack by a hostile tribe that he was trying to reach. All 3 of us enjoyed the story, though I'll admit, knowing the he had been killed, I was nervous about how the girls, especially Ashlyn, would handle the ending. I pre-warned her, but she still wasn't happy about it, she's very opposed to books that have a sad ending, or are sad, in general. When I mentioned that there's a book in the same series about
Nate Saint
, the mission pilot who was with Jim Elliot, and killed at the same time, Lexie excitedly asked if we could read it, but Ashlyn said no, she didn't want to read about him when she knows he dies too. So we're still undecided on it, maybe I'll get it for Lexie for Christmas and she can read it on her own :)
After we'd read the book, we dug into the Curriculum Guide ($7.49). Rather then being "planned out" exactly what to do when, it simply provides a variety of things to choose from, grouped by category, and then provides some reproducible outline maps and such to use as needed. I decided to have each of the girls choose one thing from each category, and if they want to do more, after they've done one from each category, they can do additional activities as they wish. The categories included Essay Questions, Creative Writing questions, Hands-on Projects, Audio-Visual Projects, and Arts & Crafts Projects. With all our travelling, the Arts and Crafts and Audio-Visual projects are "on hold" until we're home long enough to do them, but they did manage to fit in the Hands-on Projects of their choice while we were home between trips.
Ashlyn chose to do a salt dough topographical map of Ecuador. One thing I really wish was included in the Curriculum guide was a well labeled map showing where the mission stations and such that are mentioned in the book are/were located. I spent quite abit of time Googling, trying to figure it out, and never felt 100% confident that we'd figured it out. One reason I was excited to use this guide, was to give the girls a better understanding of geography in a part of the world that we haven't really studied at all, and I felt like it was just frustrating to them, because we had so little information. But other then that, she did great and had a blast making it!
Ashlyn's Topographical map of Ecuador
Lexie chose to make a display of small salt dough models of 7 things that represented Jim Elliot's life. She decided on her own, to write lengthy descriptions of each item too :)
Both girls had a blast with their projects and put a lot of time and effort into them, and they turned out great!
One thing that Lexie wasn't sure about was what a 2 way radio would have looked like. She wanted to include it, since that was the only way the missionaries had to communicate with each other and the outside world. So she asked Papa for help, and he described what 2 way radios of that era looked like, and she didn't do too bad (basically a black box, LOL).
Then last week, when we were at the
Erie Zoo
, they had a building set up like an African wildlife station, complete with a model of an old 2 way radio, that the kids could touch. The girls were excited to see the kind of radio we'd been learning about, especially since their planned audio-visual assignment is to write, and record a 2 way radio conversation between Jim Elliot and Marj Saint (the pilot's wife). I took pictures of them pretending to use the radio :)
We enjoyed the book, and the girls are enjoying the hands-on activities in the curriculum guide. One thing I found challenging was that we had the Kindle version of the book, so when the curriculum guide refers to page numbers in the book, that's not useful to me. I'd say, if you're planning to use the curriculum guide, you'll want to buy the actual book, rather than the Kindle or Nook version, for that reason alone. As I already mentioned, I would also have found it very helpful if a map showing the relevant locations had been included in the guide.
The girls have thoroughly enjoyed the unit study guide, and reviewing it "forced" me to find time to let them really dig in and do fun, hands-on stuff, so I'm thankful for that. If I were purchasing the book, I'm not sure I'd, personally, want to get the curriculum guide. Because it doesn't lay out specific lesson plans, or provide additional information like where "Palm Beach" (where the missionaries attempted to make contact with the hostile native tribe) was located, for me, I think we could have come up with similar activities on our own, and by searching for ideas online. If you don't want to think of ideas on your own, this is a great way to get the ideas all nicely organized by types of projects.
Overall, I think we'll definitely be looking into getting more books from this series! It was a great, well-written book about an amazing man!
Click the banner, below, to see what other members of the Schoolhouse Review Crew thought of this book, as well as the George Washington book and Curriculum Guide from the same series.


All prices are accurate at time of posting.