Last year we had the opportunity to review
Maestro Classics Peter and the Wolf
and enjoyed it. I have to admit, music is an area that I'm not very good at incorporating into our homeschool and it's not something the girls generally seek out so I was excited to get another chance to learn about music in a fun way.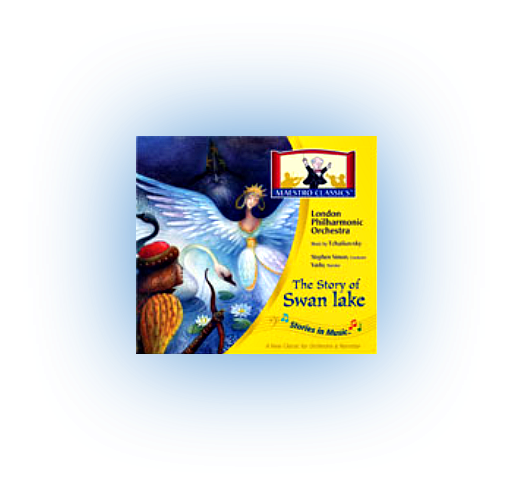 This year we got to review
Swan Lake
. What better musical piece for our house full of girls than a ballet about a fairytale-esque prince?!?!
One thing I realized as we listened to this, is that, at least for my girls (and myself, for that matter), ballet is visual. Knowing that it was a ballet didn't help when we couldn't SEE it. We did go on You Tube and find some videos of various ballets doing parts of it, which was pretty cool, but ideally I'd love to combine the excellent narration from Maestro Classics with the visual of the actual performance. I know, I ask alot LOL.
Still, we had fun with it. The CD starts with the complete ballet, but with narration added, so that we HEAR the whole story that's built into the music, interspersed through the music itself, followed by several shorter tracks that include history and other fun things (see
this page
for the contents of the CD *and* previews of each track)
After we'd listened to the CD, I headed on over to the Maestro Classics site and checked out their
educational resources
how fun!! The
homeschool section
is an amazing resource! If we weren't currently rather immersed in a very different era of history (American Revolution) I would love to use this as a bouncing off point for a fun unit on medieval history! And who knows, perhaps next year we just might do that!! We did use our math time to check out some of the castle math games linked there, and found some of them pretty addictive, hee hee.
I also noticed that in addition to the CDs, the website now also offers instant download of mp3s! That's a great option for someone like me who is often planning things last minute . . . suddenly find out you're going to the ballet and your children (and you?) need to understand the story abit before you go, you can download it and be listening to it asap! It also means no keeping track of the CD and is, of course, less expensive as well ($16.98 for the CDs, $9.98 for the download). That said, the CD comes with a booklet that includes information about the composer, etc, and also some fun activities (maze, crossword puzzle, etc) so that is an advantage of purchasing the physical CD as well as being able to grab it and take it along in the car.
Maestro Classics
offers 9 different CDs/downloads as well as a few different bundle options. You can see all their products listed
here
. You can also "like" their
facebook page
.
Be sure to check out what my fellow Crewmates think of Maestro Classics
here
.