While for the most part I try to follow my children's interests in our schooling, the one area where I tend to be more "dictatorial" is character training. In this area, while I still try to make it fun and interesting and such, I tend to focus on areas that need reinforcement and more work. Sometimes my children don't appreciate that, but generally once we move beyond the "heat of the moment", they are on-board along with me. So, when I saw my name on the list to get to review a product from
We Choose Virtues
, I was excited! What better way to sneak some extra character training into our days then to "have" to use the product because we're reviewing it :)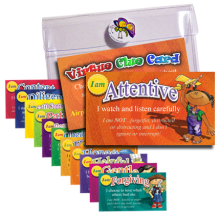 We Choose Virtues
was created to provide a fun, simple way to teach virtues to children, ages 3-18 in either a home, church or school setting. For review purposes we were sent a set of the
Virtue Clues Cards
($5.99) as well as links to download the
Teacher's Handbook
($4.99),
Coloring book
($3.00),
Family Character Assessment
(free), and
Kids Memory Verses, Bible Heroes and Truths
(free). I have to admit, I struggled abit trying to figure out how to utilize the virtue clue cards and coloring pages on their own. Finally, after reading through the Teacher's Handbook, and going back and re-reading it some, while I'm still not completely clear on how the cards would be used with the full curriculum, I was able to come up with a plan that is working well for us. Here's what we're doing.
The program as a whole is designed around 3 simple family (or classroom) "rules": Be Obedient, Be Kind, and Be Helpful. The twelve virtues listed in this program are designed to further expound on, and define these 3 rules (4 under each rule). I decided we would spend a week on each rule, and then probably cycle back around through them. Since I don't have the
Parenting Cards
that give detailed suggestions for each virtue, or the
Posters
, that help present each virtue to the children, I improvised.
I began by introducing the 3 rules and talking about how all the family rules we've had in the past can fall under those 3 rules. I listed the 3 rules (with space in between) down one side of our white board.
Next I introduced that week's virtue. I wrote the saying from the front of the Virtue Clue Card on the white board and passed out the coloring page for that virtue. Then while we colored our pictures (I colored one too, to have one to put on the board (w/o fighting over whose was on the board), plus I LIKE to color, and these are fun coloring pages!!) we read the saying together and discussed it. Next I wrote that virtue's Memory Verse (from the free download) on the board under the saying. Again we read it together and discussed it. Next I read the Bible story (also listed on the free download) and we discussed this as it relates to the virtue we're discussing. I also had the older girls each choose one aspect of the "Virtue Card" saying that they specifically needed to focus on that week. For example, for the week we focused on "I am Obedient", MiniMe agreed that she needs to work on the "I am not slow" piece of it, so she put extra effort that week into doing what she was asked promptly.
The rest of the week we continued with our regular Bible and just repeated the saying and memory verse at the beginning of our Bible time and took a few seconds to discuss how they were doing on their chosen areas of focus. At the end of the week, I list that virtue under the relevant rule, so that by the end we'll have all 12 virtues listed under their respective rules on the side of our board.
So far it has been going well. We've had some rough discussions in areas where the girls don't like to admit how poorly they are following the particular virtue being discussed, but that isn't all bad. I definitely plan to continue through all 12, and probably cycle back through at least once more. Then may let it rest before revisiting it again.
Would I recommend the product? Hmmm . . . the cards I received, I don't really see as a stand alone product. Looking at the company as a whole, yes, I think this is a fun, colorful way of reinforcing positive virtues in your family. Homeschoolers can incorporate it into their school day, non-homeschoolers could use it as a quick morning devotional at breakfast or a part of evening devotions at night. This could also be incorporated into a church children's class, perhaps focusing on one virtue each month. Additionally, note that products are available in both faith-based and non-faith-based versions so this could be used during a morning family time for non-religious families as well. As far as WHAT to buy, spend some time browsing the site, then my recommendation would be to spend the $4.99 for the
Teacher's Guide
, reading through it will show how all the products are intended to be used and give you a pretty good feel for which products will work best for your family. Alternately, if you're pretty sure you'll want "the whole package" you can save some money by purchasing a kit like
this one
. Personally, for our family, the kit includes several items that I wouldn't utilize enough to be worth spending the money, so I'd prefer to just get what I need. If it were me, I'd probably choose the
parents cards
,
coloring book
, and
teacher's guide
. If money is extremely tight, you can put together a nice program with the items I received for the review:
Teacher's Guide
,
Virtue Clues
, and free download
Kids Memory Verses, Bible Heroes and Truth
. For just over $10 plus shipping, you'll have the basics you need.
When I asked the girls what they thought, the initial reaction was speaking to the strong feelings that our current week's virtue (accountability) has raised. Let's just say this is an area that needs quite abit of work and they aren't real happy about having that . . . emphasized this week. Once we moved beyond that and I asked specifically what they think of the coloring book and sayings on the cards, they agreed that they like that, so I'm going to interpret this as a thumbs up from them.
Be sure to check out what my fellow crew mates thought of this product, and how they chose to use it, on the
TOS Crew Blog
.