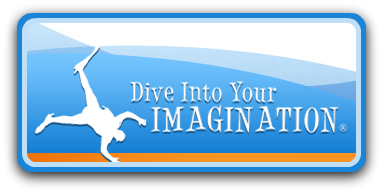 We love nature at our house! And we love science! And right now, we're kind of on an Ocean kick because that's what the theme in Little Bit's class at church (that I lead and the big girls help out with) is all about. So all of that jives nicely with getting the chance to review a video from
Dive Into Your IMAGINATION
.
Annie Crawley, an underwater cinematographer and educator, created Dive Into Your IMAGINATION to teach children to appreciate the ocean. Her books and DVDs use images that she has shot underwater all over the world.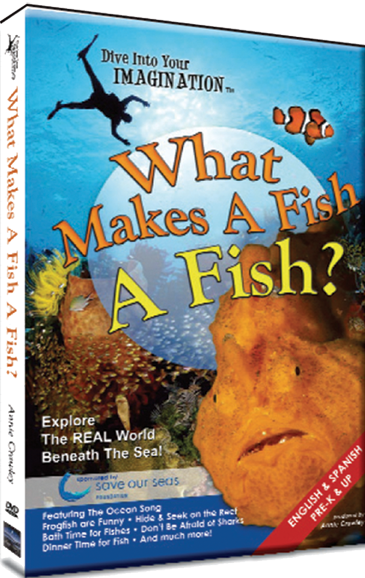 We were sent a copy of the DVD
What Makes a Fish, a Fish
and a .pdf verison of the related
Educators Guide
to review.
The 37 minute DVD is divided into 8 short chapters, or can be watched as one continuous video.
The pictures in this DVD are amazingly gorgeous and the variety of types of fish shown is fascinating! Little Bit loves watching "the fishes", and the rest of us enjoyed it as well.
The Educator Guide includes 2 .pdfs. One is for Pre-K and K, and is just under 300 pages long. The other is for Grades 1-3 and is 374 pages long. These guides take each of the short chapters of the video and turns it into a complete unit study with ideas for bulletin boards, discussion questions, and a variety of worksheets and assignments covering most school subjects. I should note that one reason they are so big is because they also include the transcript of the entire video.
I found much in the Educator Guide to be too "classroom oriented" for us. We did watch the first chapter, discussed it, using the educator guide as a . . . guide, and I gave them some of the worksheets and "assignments" from the Grade 1-3 guide. Sassy and MiniMe declared the math worksheets too easy (I should mention, we don't "do math" here, so I have no real ideal idea of what "grade" their math skills are at) and ran into the same problem I always had in school with story problems . . . overthinking them . . . Little Bit is only 3 but I can see her enjoying the coloring pages and hidden pictures and such when she's abit older.
I found it "choppy" to just watch one chapter and then discuss it, when it's only a 37 minute video and not super complex information. Honestly, I'm lazy and it involves 2 remotes and some fiddling to switch from tv to DVD, and if I'm going to spend 5 minutes doing that I want to watch more than 5 minutes of DVD lol. So, after the first "unit", we just watched the rest of the video in one sitting. As I mentioned, the undersea pictures are GORGEOUS. It's a very nice video to just sit and watch. I'm not sure how much Sassy and MiniMe "learned" from it, but they've definitely had more science than the average 9 year old. They just eat science and nature studies up, so we go with it. Little Bit is still young, but is loving the pretty fish and I'm sure "absorbing" the information without even realizing it, which is always a good way to learn.
Since many of my readers are, like us, young earth creationists, I do want to mention that there's at least one hint at evolution in this video. The one that Sassy caught was mention of sharks living before the dinosaurs, which technically I agree with, since fish were created on the 5th day and land animals on the 6th but . . . I'm pretty sure that's not what Ocean Annie meant LOL, and it's something to be aware of if getting other videos in the series.
I'd recommend the video for Preschool through 1st or 2nd grade children who enjoy fish and the ocean! The Educators Guides might work well for someone taking a school at home approach to homeschooling, if you're willing to adapt some of the group activities to make them work in a home environment. The Educators Guide is also designed to require quite abit (compared to most of what I do, anyway) of prep work. Certainly if you plan to decorate your school space as suggested, there's that, but even without that, the suggestion is to watch the video on your own ahead of time, prepare activities for the children to do, etc. What I did was to skim the unit of both guides, and print the pages that I thought would work for us, so that didn't require as much prep work as if I'd used it as suggested. Those who know me, know I rarely use curriculum "as suggested" LOL.
The DVD, and others in the series are available from either the
Dive Into Imagination site
or
Annie Crawley's site
for $19.95 each. Print versions of the
Educator Guides
are available from Annie's site for $299. My understanding is that download versions of the guides will be available for $69.95 each, but those don't seem to be on the site yet, as I am writing this.
It is also my understanding that members of the TOS Crew and their blog readers can receive the entire set of .pdf Teacher Guides FREE when you purchase the Dive Into Your Imagination DVDs. Just mention that you are a homeschool parent, and that you heard about this offer from the TOS Homeschool Crew. I'm not sure how long this offer is available, so don't delay!
To see what other members of the TOS Crew thought of these videos, and to get opinions on the other videos on the series, check out all the reviews,
here
.

Disclaimer: I received the above mentioned products in exchange for writing an honest review. No other compensation was received and all opinions are those of myself or my children, as stated.