Last spring we were excited to have the opportunity to review
Kinderbach
, and the twins enjoyed it, but
Kinderbach
's age range is 3-7 and reviewing it right around their 8th birthday, it was clear that Kinderbach's suggested ages are accurate.
So when I was asked to review
Kinderbach
again this year, I decided to see how accurate the LOWER limit of their age range is, and try it with not-quite-three-year-old, Little Bit! She turns 3 at the end of March, so she's younger than the suggested age range, but she is LOVING it! Kinderbach calls itself a "piano introduction for young beginners". I think it's important to realize that at least in the first several weeks, the emphasis is on rhythm and loud/soft and things like that. This is why it works for an almost 3 year old who could never focus enough for "piano lessons". Kinderbach is available as DVDs or online. You do need a piano or keyboard for this program. We recieved a subscription to the online program. Kinderbach consists of 6 levels. Each level consists of 10 weeks, and each week has 4 Lessons. Each lesson is a short video that encourages the child to do things along with the video. Most days there are also printables that go with the video lesson. I love that they keep the lessons nice and short for these little ones! But I must admit that most days Little Bit wants to "do another one". Other days she doesn't want to "watch Dodie" (the donkey) at all so we are going at our own speed but I'm going to guess that we end up watching Dodie 2-3 times a week, but we usually do 2-3 lessons each time so it all averages out.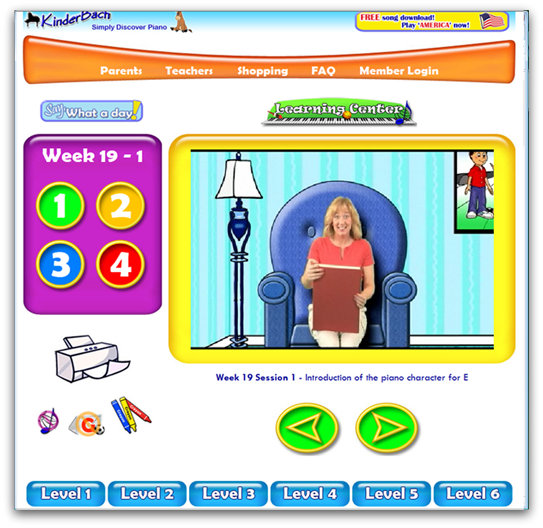 I do think the age range stated (3-7) is very accurate. My older girls were too old for it at their 8th birthday and certainly haven't had any interest (except in trying to "help" Little Bit, sigh) this year (at almost 9). Little Bit has been enjoying it, but she would get more out of it in 6 months or so, when she's actually 3.

This is very hands-on and could work with any learning/teaching style. It's designed to be used in a structured way, using it for a few minutes each day, 4 days a week. But we've found it works fine to use it on the days that Little Bit is interested, and skip it the days she's not. And it works fine to do 2 or 3 lessons at a time if she wants to keep going. While the lessons definitely build on themselves, there is plenty of repetition so Little Bit has been able to remember things fine even if we go several days between lessons.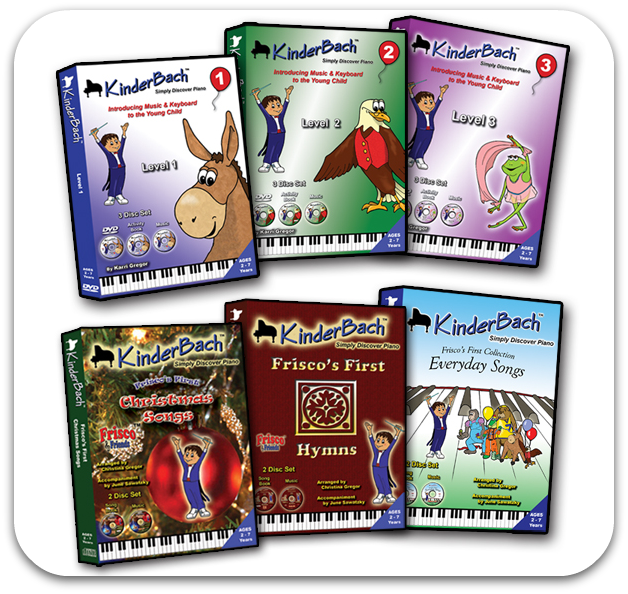 One thing I've noticed with this program is a definite down-side to video-learning. . . there's no way, in a video format, to move at the child's speed. I had to laugh the other day when the video was moving slower than Little Bit needed. The woman on the video was making loud or soft sounds and had asked the children to color a gumball in the appropriate gumball machine (on a printable) to indicate loud or soft. But she, naturally, gave plenty of time after each sound for the children to think about their answer and color it in. This is certainly a necessary part of things, but Little Bit was pretty quick at this one. So the woman had made a sound, and Little Bit had colored in her answer, then the woman said a second time to "color the right gumball" and Little Bit said in the cutest, exasperated voice "I ALREADY DID!". I don't see a solution to this in a video format. And obviously it is also a factor in classroom settings, but it did remind me of how much I appreciate being able to move things along at each child's speed with most of what we do.
If you're looking for an affordable, hands-on "introduction to music" type program for your preschoolers. This is a great option for you. You can choose an
online subscription
for $95.88 per year or $19.99 per month. Or, you can purchase the DVDs. There are a variety of packages for the DVDs, you can see them
here
.
Kinderbach also offers a variety of song books, coloring books etc. We were able to look at some of these. I think these would be great for older preschoolers. Little Bit is generally content with plain paper to color on, so I didn't print off the coloring books, but if your child enjoys coloring books,
these
are nice, affordable, and a good way to reinforce what they are learning in the videos. I was also able to see a sample song from several of the
songbooks
. Little Bit isn't ready for the songbooks, it would require going quite a ways through the program to learn all the notes included in the song. But it's a great option to keep in mind. I know one of MiniMe's frustrations last year was she wanted to PLAY SONGS, so having one of these and showing her that if she kept going through the program to learn the notes included, she WOULD be able to play some songs would have been encouraging for her.
I also wanted to mention that Kinderbach is working on a Level 7. I was able to see a preview of it and was impressed. It's different from the early levels. It requires more parent participation as, at least at this time, it's not video-based and definitely geared for an older child. But seems like it would be a good, solid "next step" from the current lessons.
AND Kinderbach is reformatting their videos to be available on iPads and iPhones. I don't have these devices, but did try opening a video on my android phone. It's a small screen for something like this, but the video does format fine on it. I can see it being a more viable option on an iPad though. I don't think Little Bit would be able to get as much out of it on as small a screen as a phone.
Be sure to check out the
free online trial
to make sure it's a good fit for your family. Also notice that right now, if you sign up for their
newsletter
, you can get a coupon code for 40% off, definitely worth looking into!!!
Go visit the
TOS Crew blog
to see what my fellow crew mates and their children thought of this product!