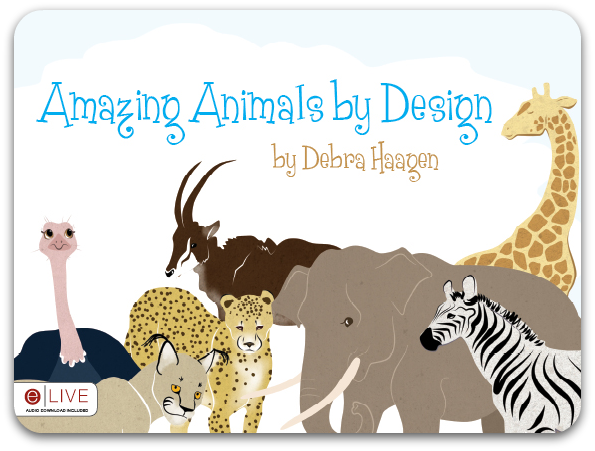 All three of my girls love animals, so when I had the chance to review
Amazing Animals by Design
by Debra Haagen, I was thrilled!!!
This is SUCH a cute book. In the story, a family goes to the zoo and discovers all kinds of amazing animals, some "typical zoo animals" that my 3 year old easily recognized, some that even the 9 year olds and I hadn't heard of. The children in the story notice that each of these animals was designed especially for the place it lives, and at the end of the day, talk with their parents about how all of these amazing designs couldn't have happened by accident, animals, like the rests of our world, was designed perfectly by our amazing Creator!
Little Bit loved the pictures, the cover art, above gives you a good idea of what the illustrations are like and they're on every page which is essential for keeping my wiggly little one's attention. The book is also relatively short, 22 pages, half of which (roughly) are pictures), this is another key to keeping her attention! Sassy and MiniMe generally consider themselves "too old" for picture books, but once we got to the cat who can jump 12 feet in the air, backwards, I had their attention too!
We received the ebook version of this book, so we all snuggled close around my laptop to read it. The one downside I found with this, is the book layout is, in most cases, picture on one page, writing on the other. But even when I made the pages smaller so we could view 2 at once, it didn't let us see the right picture with what I was reading. I'm assuming this is because Adobe was considering the "cover" as a page. So it showed the cover & first page together as a "spread" and then the "spreads" were off for the rest of the book. Obviously this would be a non-issue with the physical book and as much as I love the cost savings (and storage space savings) of ebooks, for young children, I think "real" books are still the way to go. But you can choose whichever you prefer, this book is available as both a book ($8.99) and an ebook ($7.99)
here
.
While my older girls enjoyed listening along, I'd say this would be best for younger children. I'd recommend this book for anyone whose young children loves animals! If you're looking for a book that your children will love, that will reinforce for them that God created all the animals, not random chance, this is the book for you! Your little ones will love it, and I bet any older children will at least pause to hear, and might come over to check out some of these unusual animals mentioned.
While you're visiting Tate Publishing to look at this book, browse around abit, they offer a wide selection of books and music.
To hear what other people think of this great new book, stop by the Crew blog to read the rest of the reviews!



Disclaimer: I received the above mentioned product in exchange for writing an honest review. No other compensation was received and all opinions are my own.