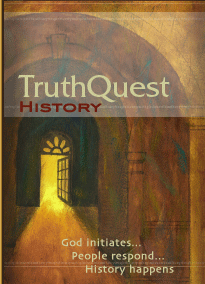 We LOVE history around here! LOVE IT!!! And we love using living books to learn about history. I've been very happy with the curriculum I've been using, which, as I use it, is basically a list of books to get from the library, going through American history chronologically. We used it, as read alouds, when the girls were 5, and we're using it again this year as a combination of read alouds and independent reading.
Providentially, when the opportunity to review
TruthQuest History
came up, complete with the option to choose from several products to review, we were just wrapping up the Revolutionary War, ready to start learning about the Louisiana Purchase. And one of the options to review from TruthQuest History was
American History for Young Students II (1800-1865)
. For those who don't remember their American History dates, the Revolutionary War was late 1700s, and the Louisianna Purchase was 1803. What are the odds?!?! So, needless to say, I jumped at the chance to review a history product that was timed exactly perfectly for where we were. And I fell instantly in love!!!
Remember what I said we love to do for history? Read real books (Charlotte Mason calls them living books) in relatively chronological order. . . guess what TruthQuest is? A huge list of real books on topics of (in this case) American history, listed chronologically!!! BUT, they make a point of including books with a Christian point-of-view. AND they managed to have almost NO duplication with the list I was already using. I'm not sure how that's even possible when both had such awesome books, but it is.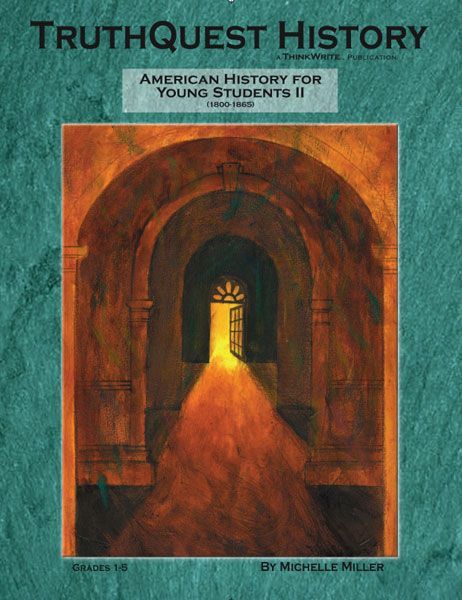 The curriculum started, in 1800, with the building of the "Federal City" (better known as Washington DC) a topic that we would have completely skipped over if we hadn't gotten this review right when we did! I did find that our library doesn't have all the books listed. In most cases, the library has at least SOME of the books listed in each section, so we go with the ones they have. Sometimes, not so much (starting TOMORROW we're going to be reading a book about the Barbary Pirates (another topic we would have missed if we didn't get this curriculum), our library didn't have ANY of the ones listed, so I ordered the one that I thought would work best for us from a used book website), I think it's because this is such a thorough guide and the library just doesn't have that selection. The way I see it, if the library doesn't have any of a large list of resources about a topic, it's probably a good idea for us to own at least one or two resources on that topic anyway. I've also run into some books listed that I just can't bear to NOT use, so even though the library's had plenty of others on a given topic, I've ordered some new (to us) ones as well.
Most topics include at least a brief summary that I read to the children before we dive into the books of that section. As I glance through the rest of the book, I see that some are longer, and some include a short "writing prompt" asking a question about the topic being discussed. So far there have been SO MANY great books recommended, and we love great books, so we're not moving through this very fast. I think how fast we move will vary greatly. We spent 3-4 weeks (granted we were traveling during that time) on the Louisiana Purchase and Lewis and Clark. We'll probably spend less time on some topics (hopefully, if not, we won't get to the Civil War until the girls are teenagers LOL).
I didn't ask the girls what I thought of this curriculum, because it fit so perfectly seamlessly into what we were already doing that I don't think they even realized we were reviewing something. I *can* say, with certainty, that we have already discovered some wonderful books thanks to this book and we've only made it through the first couple topics.
I am loving this! The only "teacher prep" that's required is to line up the books you need. I try to check the library about 3 weeks ahead of where we're working, I enter the books the library does have into my "list" on the library website, ready to request about a week before we need them (to give time for the library to collect them from around the county for me, I love my library!!!). But by checking a few weeks early it also gives me time to decide if I want to purchase any of the books the library doesn't have, and have time to order them and have them shipped media mail. And that's it. . . one of the books we used with Lewis and Clark included hands-on projects and we enjoyed a few of them (I was hoping we'd have pictures of the moccasins the girls are working on, but we've been too busy enjoying the lovely spring weather to get much sewing done, the girls are very excited about it though, so when the weather is less conducive to spending hours outside I'm sure they'll get them sewn up quickly), so if you were to choose this book you might choose to go through it ahead of time and choose projects and collect the supplies. I'm not that organized, so as we read through the book, if we came to a project that looked interesting, I mentioned it, if the girls wanted to do it, we added the needed supplies to our shopping list for that week, and went on. . .
I highly recommend this for history! Reading REAL books about history is such an awesome way to learn history! Sassy and MiniMe looked at me like I had 3 heads when I mentioned (I don't remember how it came up) that many people find history boring and I really think that's because they've never had to listen to a dry history lecture or read a dry history textbook, or ignore the fun anecdotes in order to make sure to have time to memorize the dry facts that the teacher thought were important. You can purchase a physical book for $24.95 or a .pdf ebook (like we are using) for $19.95, and you can use this for all your children!!!
Be sure to check out the website too. In addition to the volume we reviewed, there are 2 more volumes for American History (Grades 1-5), and several volumes for World History (Grades 5-12). There are also additional resources for maps, lapbooks, etc. available.
Be sure to check the TOS Crew blog for additional reviews of this and the rest of the TruthQuest History products.