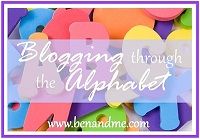 Marcy at
Ben and Me
is starting an alphabet series. Each week we blog about something that starts with that weeks letter. This week is "A" week.
So, since I have been negligent in posting about Little Bit's alphabet fun, I figured this would be a good place to catch up on that.
To recap, last spring Little Bit asked if she could do "school like Sissies" so we started a letter of the week study. I wasn't sure how much she'd do with it or how long she'd stick with it, but she loves, loves, loves it!! Originally I figured that we would skip the weeks when we travel, but I found that this is a great way to entertain her in the car and in hotels and such. So we are already on letter R.
Her favorite things is the sensory bins. (which I apparently have no pictures of, probably because she plays with it at home & she's generally nakey when she's in the house, at home LOL). We've decided that dry pinto beans work best, they are easier than rice to clean up when they spill, but are small enough for stuf to hide in them lol. Each week I switch the stuff to be things that start with that week's letter. Most of the time I just find toys and household items we already have. Sometimes I'll get small dollar store toys. A few weeks we've had enough stuff to do different things in the bin different days during the week.
Right now she is really into tracing letters. I honestly figured she would just color the picture and ignore the tracing part. I remember the older girls not being into tracing until they were closer to 5. But she is loving it. Sometimes I laminate the page and she uses a dry erase marker or crayon. Sometimes I leave it and she uses regular markers and I put it in the alphabet book she is making.
Tracing letters was a wonderful way to keep her entertained when we were on the motorhome trip last month, her carseat made a great "booster" to let her sit at the table and trace letters.
And while I might be abit biased (who me?) I think she's doing quite well at tracing letters for not quite 3 1/2 years old.
Different weeks we do different things. When she's in the mood to be read to, we read lots of books (I add books that start with that letter to her book basket each week), some weeks, she's not in the mood, and that's fine too. Some days she enjoys lacing cards, for "P week" she "sewed" a pumpkin. A favorite most weeks is cutting and gluing. We have a couple different activities where she can cut out pictures and glue them to a page.
The picture on the left was one of our fun "M" activities. I printed a page that was an "M" maze with Mickey & Minnie on it. The page was full of random letters, but the Ms formed a path from one character to the other. Since it was M week, we used M&Ms to make the path. Needless to say that was a hit LOL.
Another favorite has been the alphabet "roads". I've been printing them from
this site
& laminating them. While other activities I tend to vary some from week to week, I've made sure to include this each week, so now she has letters A through R. In addition to driving little cars on them, she likes to put them in order, match the upper and lower case, and is starting to spell words with them. This picture shows her playing with them on the floor next to our pew at church a few weeks ago.
So that's some of the alphabet fun we've been having around here.
Don't forget to to visit
Ben and Me
to see what other people are blogging about for the letter A this week.