This summer we had a chance to review
Reading Kingdom
. This is an online program to teach children to read. The stated age range is 4-10, and the program teaches children to read up to a 3rd grade level. I needed to choose one child to use this with. Little Bit is 3 1/2, the twins are 9. I have never had their reading "assessed" for grade level, but I am quite sure they are beyond 3rd grade level. So, I decided to use it with Little Bit even though she's "too young". I'm not a fan of "early academics" as a rule, BUT she begged me, last spring to "do school too" so I started some "Letter of the Week" stuff with her and she has been eating it up. She also has some alphabet and early reading videos that she watches whenever I let her so that, each week she asks me for our new letter without me even telling her what's next. So, I figured she was a better fit than the older girls, and we'd give it a try.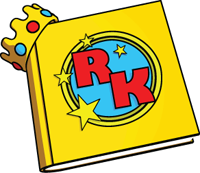 Since we have laptops only around here, and while she's quite proficient on the iTouch and my smartphone, she hasn't really used the computers at all, so rather than try to teach her to use the touchpad for this review, I opted to have her tell me what to choose but I ran the mouse for her.
We began the assessment and it was just too long for her attention span. In this case, her being younger than the recommended age definitely was an issue. And while the older girls know that the "price" we pay for all the awesome opportunities we get by reviewing, is that even if its not their cup of tea, we still give it a fair try, I'm not willing to force a 3 yr old to sit through academics that are frustrating her. So, I turned her loose and I finished the assessment and did a few lessons to at least get a feel for it.
And here's what I realized . . . one of the beauties of homeschooling is that there are so many theories on how to teach things, and homeschooling allows each family to choose the theory that they feel is right. I know there are others on the crew who are loving this program, and I encourage you to read
their reviews
. I also encourage you to read through the information on the Reading Kingdom website explaining the theory behind this approach -
here
. See if it sounds like what your child needs. I can see this working well for a child who is motivated to learn to read, this could be a great tool for them. I can also see it being a good way to fill in gaps and help someone who needs some remedial help. I don't think it would be a good fit for the average 4 year old, the lessons are just too long and repetitive for such young children, but I also don't advocate teaching 4 year olds to read in general, so take it for what it's worth. Only you know your child and what will work well for them.
This is an online program, with wonderfully flexible pricing. First of all, there's a 30 day free trial! This is wonderful, try it for yourself, SEE if it fits well for your children! After that, you can choose to pay per month for $19.99 per month, or per year for $199.99 per year (that's like getting 2 months free!). Additional children can be added for 50% off the above prices. And, if you truly can't afford this, they have a scholarship program, you can read about it
here
.
And again, please don't take my word for this product, see what my fellow crew mates thought
here
.
Disclaimer: As a member of the Schoolhouse Review Crew, I received the above mentioned product in exchange for writing an honest review. No other compensation was received and all opinions are those of myself or my children, as stated.