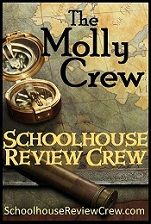 Another part of the Schoolhouse Review Crew is the
Molly Crew
. And this is our first Molly Crew review.
Every year when I attend our state's homeschool convention, I attend as many seminars as I can, but there are always more that I want to hear, so I buy the recordings of the seminars that I don't get to attend in person. This year, a couple of the seminars that I purchased were by
Vicki Bentley
from
Everyday Homemaking
.. As I listened to her seminars in the weeks following the convention, I was intrigued by the chore system she mentioned. I was wishing I'd gone to her seminars during the convention so I'd heard about it then and could have at least LOOKED at her book,
The Everyday Family Chore System.
And then, a couple months ago, I was given the option to REVIEW The Everyday Family Chore System for the Molly Crew. Woo-hoo!!! Needless to say I was pretty excited. I have to admit, my children weren't quite as thrilled to hear that we "get to" review a new chore system. And when I first went over it with them, they asked "why can't we just stick with the one we have?" (which would have been ok with me if it wasn't for getting to review this one that so intrigued me.
The book begins by explaining the theory behind it all, which I found helpful to help it all make sense. And then has detailed instructions for implementing the new chore plan. There are also lots of "options" depending on your family (how many children, age of children, etc). I love that there is lots of emphasis on teaching our children how to do the chores. And "setting them up to succeed" with built in reminders and such.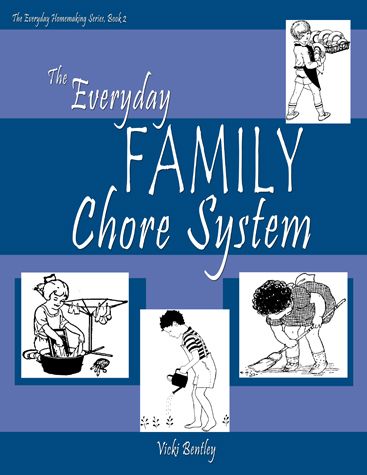 When I first heard Vicki's brief description on the seminar CD and such, one thing that absolutely did NOT seem like it would work for our family was that she talked about giving each child 2 daily chores and 2 weekly chores and that was it. We have typically had LONG chore charts and I don't feel that my children slave all day, so I was trying to wrap my mind around how I would get all that *I* need to do done if I cut my children back to only a few chores and WHY I would want to, when I didn't (don't) feel they were overworked . . . but as I read through the book, I realized the difference is that this chore chart is ONLY for the chores that rotate through the children. In the past our chore charts included everything from getting dressed to putting away your own toys each afternoon to brushing your teeth before bed, along with the chores that alternated. That was one mind shift we had to make, this "chart" is ONLY the things that change. They still are responsible for their normal daily routine items. AND partially because I didn't want to "mess with success" we did keep some chores as a part of the daily routine. Unloading the dishwasher works BEAUTIFULLY to have each of the big girls unload one part & Little Bit do the silverware, I did give them the OPTION of alternating and having one person unload the WHOLE dishwasher, but they agreed that they preferred to keep it the way it is. The other difference is how chores are defined. In the past, weekly chores included "clean toilet", "clean bathroom mirror", "clean bathroom sink", etc. Now one chore is "clean bathroom". That aspect of it, MIGHT change . . . I think it might have worked better for them to divide up the cleaning of the bathroom that way they could talk together while they cleaned the bathroom.
When a friend was telling me about this system before I saw it, one thing I mentioned that I didn't think would work for us was that all the chores cycle through all the children. It seemed unrealistic to expect my 3 yr old to do the same things that the 9 yr olds do. But after reading the book, I realized that the idea here is that mom "helps" young children when it's their turn so they start to learn how to do it but in reality mom's doing those chores. So that's what we have been doing for the review period, I may switch that around abit too, Little Bit feels "big" when she gets to help her sisters, and they have the added learning experience of teaching her, so for some chores, I think it works better to have them "help" her and for me to stay out of it. I have to admit, I've ended up giving them extra 'hole punches" (more on that in abit) to work with her on some of her chores, especially on days when I'm busy with other things and they have the time.
So anyway . . . after all the information for implementing the plan, there are the actual templates. This includes the small cards that can be attached to a clothespin or magnet, etc. for the main chore chart, AND the "how to" cards that the children use to make sure they understand what's expected of them. If you buy the
physical book
, these pages can be photocopied for use in your immediate family, or they are one-sided pages so you can just cut them out of the book. If you purchase the
ebook
, you can printed the pages, as needed for use within your immediate family.
Here's the chart I came up with (I have to admit, I went for quick & easy, not pretty & fancy):
I had a small magnetic white board I wasn't using. So I used the tags I needed, laminated them, and glued magnets on the back, then just wrote the "headings" on the white board with a wet erase marker. This white board hangs on our big white board with a small magnetic pocket next to it with the "how to cards" in it.
Someday I'll probably go through and type up my own how to cards. They are about as good as "generic" cards can be and if you're "normal" and use store bought cleaners, and paper towels and such, they'd be fine. But I found that most cards required me to cross out things and write in different things because we try to use all natural, mostly homemade cleaners and reusable cloths. Still it gives a good starting point and I'm glad I have them.
Oh, I almost forgot, the thing that "sold" my kids on it all! In the book, she talks about using rewards especially with younger children or to get started with a new system. I liked the overall plan . . . more rewards if you do it without reminders and such, BUT the suggested reward was that the child builds up enough points (we use hold punches in an index card) and can choose a small prize out of the prize box (dollar store toys & such). Which Little Bit LOVES LOVES LOVES doing! And will help her sisters with extra chores to get extra punches to choose another prize. BUT I didn't see the 9 yr olds being excited about dollar store toys, and since it was a new system, I saw it going over better with SOMETHING for them at least at the beginning too. . . and then it hit me. . . awhile back we were given a bunch of cassettes of Adventures in Odyssey, the girls love them, but are frustrated because the stories aren't in order so the continued ones sometimes are missing parts and such. I had looked online and discovered that you can download mp3 episodes for $2, SO that's what I told them. Whereas Little Bit gets to choose a prize after 10 holepunches (these are things that come in multiple packs from the dollar store so they cost in the $0.20 ea range but she's happy), I told the big girls that for every 50 punches, one of them got (or they could pool their efforts) they could choose one AiO mp3 to download. They were THRILLED!!! You'd have thought I'd offered them a million dollars. Nevermind that they have plenty of spending money in their accounts to order however many of these mp3s they might want, they were ALL OVER this. . . works for me! And THEN . . . we found a site where we could order the CDs of the storyline they most want to fill in the pieces on, for less, per episode than the mp3s. So we did the math . . . if 50 punches = $2, then if they want the CD set, they'll need however-many-hundred punches. And they are working on that! If we hadn't been gone for half the month of Aug, they'd probably be about halfway there, even with being gone, they have a good start. The fact that Daddy sometimes offers large numbers of punches for small chores, helps their total, but still, overall by the time they earn those CDs, I suspect they will have much better chore habits than they did going in. AND . . . considering how much traveling we'll be doing over hte next couple of months, I'm hoping that the incentive of the cds will start working on one of our biggest challenges which is getting BACK into routines after trips. That's an important skill considering all the traveling we do, and one that has, so far, pretty much eluded them. I'm hopeful . . . we shall see . . .
So, as with most things, we've tweaked this, and will probably continue to tweak as we go. BUT this is one of the best overall helps I've found for setting up a chore chart. This is a GREAT value at $19.99 ($17.99 for the ebook)! I was able to have both the ebook and the physical book for this review, I think if I had to choose, I'd choose the ebook. Being able to just print out whichever templates I need is awesome. Since I *do* have my own photocopier, it wouldn't be that big a deal to photocopy the pages I needed instead, but for sure if you'd have to go to a copy center to copy the pages from the book, unless you're more organized than me (I anticipate needing different chores in different seasons and losing some cards over time and such), if you're organized enough, you can just cut the cards out of the book and be good to go . .. then again, if you're that organized, you probably don't need the book LOL.
Be sure to see what my fellow Molly Crewmates thought. Some of them reviewed the chore book, same as me, others reviewed a recipe book. Check them all out
here
.
Disclaimer: As a member of the Schoolhouse Review Crew, I received the above mentioned product in exchange for writing an honest review. No other compensation was received and all opinions are those of myself or my children, as stated.