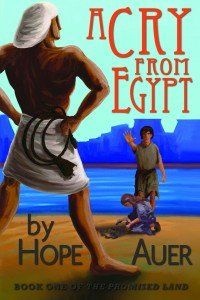 I have to admit, when I first saw that one of the vendors being reviewed was
Raising Real Men
, I assumed it wasn't anything we could use. Afterall, I'm not raising men, I'm raising 3 women. But, when the information about this review came out, it specified that it wasn't just for parents of boys, so I read about it afterall. And I'm SO glad I did! One of the options to review was
A Cry From Egypt
by Hope Auer.
I love books. I've been a bookworm since I learned to read. I had a teacher who used to tell me I HAD to play at recess, I couldn't just sit under a tree and read a book every day, he wasn't my favorite teacher LOL.
These days I don't find alot of time to read "for fun", but one genre that I still make time to read once in awhile is Biblical fiction. I love it when an author does a good job of taking a well-known Bible story, and does the research about the time period and such, and "fleshes" the story out. And that is what this book is. Hope Auer, a recent homeschool graduate, wrote this book about a young Hebrew slave girl in Egypt during the plagues.
We used this as our bedtime read aloud, and my girls and I LOVED it! In fact, we are waiting impatiently for the sequel to come out!!! (I fear we may have to wait awhile, since I KNOW books like this don't write themselves overnight, and A Cry from Egypt is still available in limited quantities as advanced reader copies, sigh).
It is so easy to read about the plagues of Egypt and not really think about the PEOPLE involved, both Egyptian and Hebrew! Obviously we don't know alot about how the people felt, but I feel this book did an excellent job of "guessing", and bringing these people, with all their trials and joys, to life! I especially liked that the author didn't portray all Egyptians as evil, as we approached the Passover in the story, my girls started being so sad, "Oh no! So and so is going to die!" (or so and so's son, or so and so's brother . . .), we hurt along with some of the Egyptians who were victims of their Pharoah's cruelty in a different way.
I seriously can't think of anyone I DON'T recommend this to! The recommended age for this book is 8+, I think for younger children (and probably even for some 8-10 yr olds), use your judgement. Consider what the basic story here is, there is violence, bad things happen to people, it wouldn't be realistic if it weren't that way. If you have a very sensitive child you might want to wait until they are abit older, if your child won't be disturbed by the violence, then I would think a couple years younger would be able to follow, and enjoy, the story if it were used as a read aloud. If your kids are too young, get it anyway, you can read and enjoy it now, and share it with them when they're ready! My one complaint, and I know I noticed it more because I was reading it out loud, was there were several small typos, a missing the, or a word typed twice, little things like that (which I'm sure are quite prevalent in my blog, but then, if I took time to proof read and double proof read every blog post, I'd NEVER get anything posted), it's a small thing really, but since I know that some of my friends are as picky, or picker than me about such things, I did want to mention it, so you can mentally prepare yourself to overlook that when reading it.
You can purchase a pre-release copy of
the book
from the publisher for $12.50, including shipping.
Also be sure to look around
Raising Real Men
to see all the other great products they have (that are NOT all just for those raising boys!). You can also find them on
facebook
.
Some of my fellow crewmates reviewed this book along with me, others reviewed a parenting book about children in church, you can read reviews of both these books on the crew blog,
here
.
Disclaimer: As a member of the Schoolhouse Review Crew, I received the above mentioned product in exchange for writing an honest review. No other compensation was received and all opinions are those of myself or my children, as stated.