Our first year reviewing for the Schoolhouse Crew, we were thrilled to
review
some books from
Salem Ridge Press
, and we loved them. Since then we have purchased other books, and enjoyed all that we have read. So, when we had the chance to review ANOTHER book from this great company, there was much rejoicing and excitement.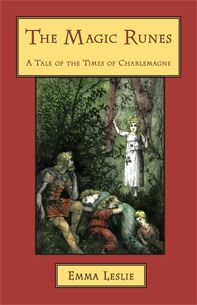 Then came the hard part. How to choose ONE book from the list they gave us to choose from. After much discussion we decided on
The Magic Runes
.
This is a book set during the time of Charlemagne. It focuses on the conflict between Charlemagne and the Saxons. In this story, a Saxon family has been driven from their home by Charlemagne's army, all in the name of Christianity. They are found by a Charcoal burner and his daughter, who care for them, and show them what true Christian love is like.
We used this book as a read aloud, and if my girls had had their way, we'd have read it all in one sitting, LOL. All of us enjoyed it, and finished it in 3 or 4 days.
This story did a great job of weaving the history of the time period, including the atrocities Charlemagne's army committed in the name of "converting" the pagan Saxons, with the timeless lesson of the importance of witnessing by showing God's love to everyone.
This book is listed as being for ages 10-adult. Sassy and MiniMe (just turned 10) could easily have read it on their own, and probably WOULD have finished it in one sitting LOL.
One thing I love is that the publishers include definitions of unfamiliar words at the bottom of the page where the word first appears. I think that would be especially helpful with younger readers, though there were a few times I referenced it as well (and in several cases, as I read, they asked me what a word meant, and I was able to just glance to the bottom of the page and read the definition instead of having to think of how to describe it on my own.
My only "complaint" is that I wish the book had included a pronunciation guide for the names. I would have liked to make sure I was pronouncing the fictitious characters' names accurately, since they were reflective of the time period in which the story was set. If the girls had been reading the book on their own, I'm guessing they would have pronounced Charlemagne, phonetically (I would have, at that age), which might have led to confusion later when they learned about Charlemagne, and/or embarrassment if they were talking about him to others and mispronounced his name.
This book is great for history, Bible, or just for fun reading!
The softcover is $10.95 or you can choose hardcover for $20.95. My fellow crewmates and I were given a LONG list of books to choose from, so be sure to go read the other Schoolhouse Review Crew Reviews (just click on the banner below) to find out about a bunch of other great books from Salem Ridge Press.