My kids have always enjoyed science, especially when it's "experiments" and "how things work". So when it came up as a review choice, I figured they'd probably enjoy the
e-Science
subscription from
Supercharged Science
. And I was right :)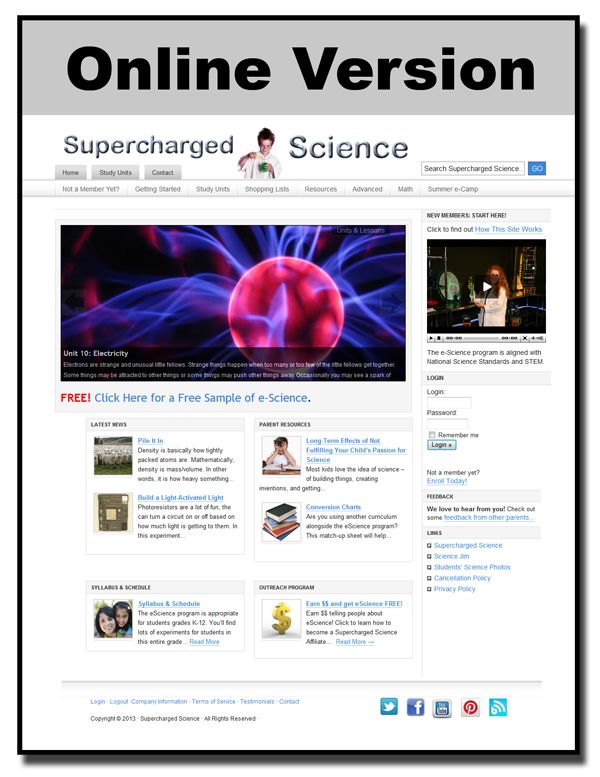 Supercharged Science is an e-science subscription for grades K-12. I love how flexible it is! There are lesson plans, for those who want to have everything planned out for them. There is textbook-ish reading for those who want to assign reading. There are TONS of experiments. And THAT is what caught my kids' attention and we pretty much stuck with that. We're not much on textbooks or lectures or . . . "doing school". But experiments, that's right up our alley! Or, more accurately, it's right up Sassy and MiniMe's alley. And if Daddy's home and hears about it, it's right up his alley. And I WANT it to be up my alley. In theory, it sounds great! But . . . then I think about the mess, sigh . . . and that is where this is even MORE awesome!!!! Because, not only does Supercharged Science have tons, and I do mean TONS of experiments, AND they have really done their best to make sure as many of them as possible use simple household items that are probably already in your house, or can be easily, and inexpensively obtained. But, here's the best part, for this mess-averse mom. They ALSO have well-done videos of Aurora DOING the experiments. So in many cases, my girls were perfectly happy to just WATCH HER do the experiment.
Some, they needed to try for themselves. MiniMe was fascinated at the very idea of cheerios being magnetic and HAD to try that! Daddy was happy to hear she wanted to try that one, he LOVES Cheerios and I usually don't buy them, so this was a great excuse for him (and Little Bit) to get a box :)
Today they thought we should microwave a grape to see the plasma burn. But . . . the little disclaimer warning at the bottom of the experiment, mentioning that it MIGHT break the microwave was too much for me (mean mommy, I know), it WAS cool to see the video of it though, if I had a cheap old microwave, I just might have to try it too!
We received a one year subscription to Supercharged Science, this costs $37/mo for K-8 or $57/mo for K-12. You can read more about the pricing
here
.
This is a great way to make sure your children are getting a comprehensive science curriculum without much prep-work time for you. It can be used by anyone from a "school-at-home" homeschooler (with pre-made lesson plans, textbook-like reading, etc) to an unschooler, which was how we used this, just turning the kids lose with the experiments and letting them have a blast :)
While the program is listed as being K-8 or K-12, I think, based on what I've seen, it would probably be best starting around 3rd grade. I definitely think younger kids would enjoy doing the experiments and learning alongside older siblings, but I'm not sure I'd choose to spend the money on a subscription JUST for K-2 children.
To see what other members of the crew thought of this, click on the banner below.