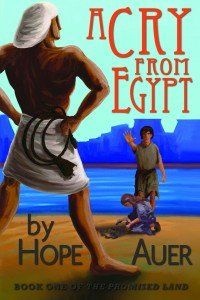 I am so excited to be able to offer this to my readers!!!
Last fall, I reviewed an AWESOME!!! book,
A Cry From Egypt
. We LOVED the book, and are anxiously awaiting the sequel. This is a fictionalized account of the plagues of Egypt. As I said in my review,
"I love it when an author does a good job of taking a well-known Bible story, and does the research about the time period and such, and "fleshes" the story out. And that is what this book is."
You can read my full review
here
.
So, when we reviewed this book, it was still in "pre-release". Now, they are releasing it, and gave me the chance to giveaway a free, signed copy of the book to one of my readers!! Isn't that great?!?! Seriously, if you enjoy Biblical fiction, this is a GREAT book! And I love that it's written at a level that my kids can enjoy it too .
So, without further ado, the giveaway!! This giveaway will close on April 30 at 8pm, EDT. Please remember that only comments on the blog, not facebook, will count. Also please make sure to include your e-mail address so I can contact you if you win. Winner will have 2 days to reply with their contact information, or I will have to choose an alternate winner.
For your first entry, visit A
Cry from Egypt
, and tell me something interesting you read there.
For additional entries, do any or all of the following, and leave me a separate comment for each that you do:
Good luck! :)