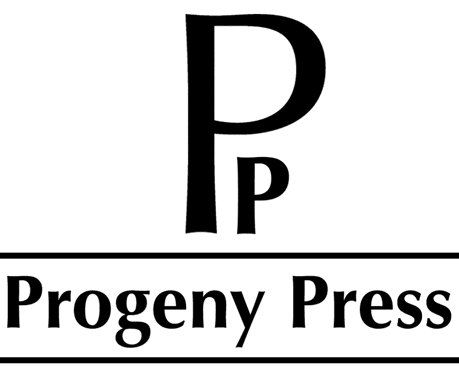 In case you haven't noticed, we love books around here. So, when we get the chance to review story books, we get excited. This one was abit of a twist for us though.
Progeny Press
, not only asked us to review a book,
Hall of Doors: The Dragon's Hoard
, but also their
Hall of Doors: Dragon's Hoard Study Guide
.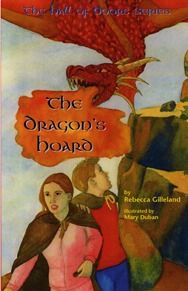 Hall of Doors: The Dragon's Hoard
($6.99), is the first in the Hall of Doors series. In this book, a brother and sister, discover a hall of doors, and upon going through one door, find themselves in Middle Earth. Their adventures in Middle Earth help them to learn courage as they serve the King.
Since we recently read The Hobbit, and Lord of the Rings trilogy for bedtime, and Sassy and MiniMe LOVED them, they immediately recognized the references, in the book's description, to Mirkwood and such, and were excited to get the book.
When it arrived, we were surprised at how small it was. It occurred to me, in retrospect, that we are so used to reading older books, and books that, if they were assigned a reading level, would be higher, that none of us really think about what size most books that are geared for their age/grade would be. This book is for Grades 2-4, and I suppose, is a good size for someone reading at that level :) For us, it was a very quick read aloud. I thought about having them read it to themselves, but in addition to the potential for fighting over who got to read it first, I decided that, since we also had the study guide, it would make more sense to quickly read the book together, and then let them "read" it on their own while working through the
study guide
.
We enjoyed the book but, the girls felt like it wasn't long enough. I think, because we read so much, and often books that are at an older reading and comprehension level, they have gotten used to that, and found this too "easy" and the plot too simplified. This book would be great for a newer (or struggling) reader, it's a great story, and I don't think my girls would turn down the chance to read other books in the Hall of Doors series.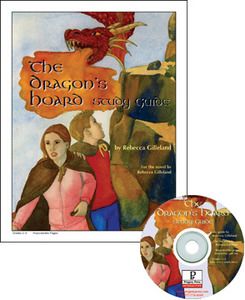 We received the .pdf version of the study guide ($15.99), including an answer key. I printed out two copies of the study guide, and pretty much turned the girls loose with it, asking that they do at least a page each (school) day. The study guide is a mixture of reading comprehension, vocabulary, etc. So most of the time it worked out so that one of the girls could use the book to answer the questions that required that, while the other did vocabulary or something that didn't require the book.
There were a couple questions that were . . . ambiguous, and I ended up checking the answer key to see what answer they were looking for, in order to be able to reword the question to make sense to the girls. But overall, it was self-explanatory enough that the girls didn't need to ask for help often.
I was interested to see what they would think of a "workbook" type thing like this, since that's not our normal way of homeschooling. They both said it was "fine", and a couple times during the review period, MiniMe commented that it was "fun", so at least as an occasional thing, they seemed ok with it :)
Progeny Press offers many other study guides for various grade levels, and crew members were able to choose between several, so be sure to read the
other reviews
as well.