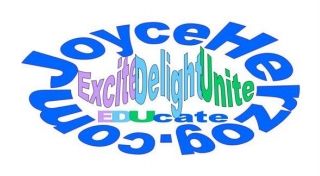 I love planning and lists. Much as I believe in our eclectic way of homeschooling, I believe in it, because I believe it's best for my kids. If it were "all about me", I'd have every single subject planned out through 12th grade for all three girls. So, when I was given the opportunity to review
Luke's Life List
, and
Luke's School List
from
Joyce Herzog
, I was intrigued.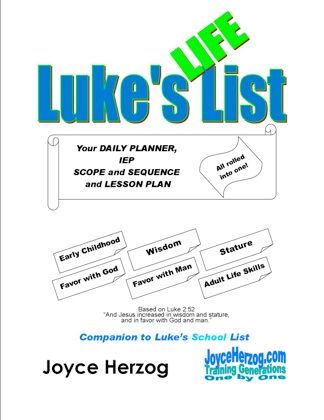 Luke's Life List is a book full of checklists of the things that the author believes are the most important for our children to learn as they are growing up. The "Luke" in the title is referring to Luke in the Bible, and the text, Luke 2:52
And Jesus increased, in wisdom and stature, and in favour with God and man. KJV
, this is the only verse that tells us of Jesus' growing up years. The author organized this life list to go along with the verse, "wisdom", "stature", etc.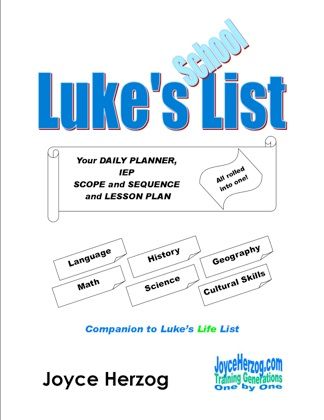 We also reviewed the companion book, Luke's School List, that is the same concept, but for school subjects.
Both books include "goals" throughout childhood, from baby things, like first steps to teenage things like getting a driver's license.
The books are designed such that you can either have a separate book (or set of books) for each child, or suggestions are made to use one book/set for up to three children.
Since I was sent one set to review, and I have three children, it was pretty easy to decide which option to use, and it's working well for me.
I read through both books, then began filling them in. Even as much as I love marking off checklists, I opted to skip the pages that all three kids were WAY past (baby/early toddler stuff). Ideally, a person would start this when their child was VERY young, so that there isn't any "catch-up"
There are also several sections in the Life List book, that I prefer not to use. I feel pretty strongly that it would be counterproductive to use a "checklist" of what my children "know" in their walk with God. I believe that would be a slippery slope toward legalism. WHAT my children know isn't important to me, WHO they know is important, and while family Bible study is a very important part of our days, I trust that God will lead them to learn what He wants them to know, so I don't need a detailed, extensive checklist to make sure they know all there is to know about Christianity. But obviously everyone needs to decide for themselves how they will train their children in the ways of the Lord, and I know many people would value this tool in that process.
I did notice some repetition (same concept listed in more than one place), and there were some things that I'm not sure what was meant by the item. I think she mentioned, in one place, that she explains the terminology in one of her other books.
All in all, I like the idea of this. I am planning to continue using it, glancing through it once or twice a year to jog my memory of skills that we should be working on. I would say this would work with any style of homeschooling, and even those who don't homeschool might find Luke's Life List helpful. I would caution those using this, to recognize that it is tool . . . you will need to tweak it and adjust things to make it work for you (our children don't take gymnastics, or participate in organized sports teams, and there are some rather large sections that relate to these areas that we'll be skipping, for example). You can purchase these books for $30 each.
Joyce Herzog provided the Schoolhouse Review Crew with a wide variety of items to review, be sure to check out the crew blog (link in the banner below) to see what everyone else reviewed, and what they thought of the items.