A couple years ago we had the opportunity to review a
book by Susan Marlow
and LOVED it! So, when
Susan Marlow and Kregel Publications
gave us the opportunity to read on the books in her new series,
Goldtown Adventures
, I was pretty sure it would be a hit. We were given the option of reviewing either
Badge of Honor
or
Tunnel of Gold
. I was confident that we would LOVE these books, and as an added bonus, we're learning about "westward expansion" in history right now so, while this jumped us ahead slightly, it still fit in pretty well with our current history. At that time, I was ordering from one of the sites that carries the Badge of Courage, so I decided to order
Badge of Honor
and ask to review
Tunnel of Gold
. That way we got both books for the price of one :-)
Goldtown Adventures are set in a fictitious gold town, creatively named, Goldtown (hee hee), in California. The books begin in 1864 and center around the life of Jem (age 12) and Ellie (age 10), and their father (their mother died when they were little). In Badge of Honor, Jem and Ellie come to terms with their father being made the first sheriff of Goldtown and their aunt and cousin moving in. then Jem, Ellie and cousin, Nathan, work together on a grand adventure to find their missing prospector friend, "Strike".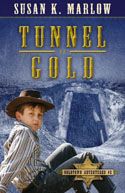 In Tunnel of Gold, Jem is caught in a miner riot, and discovers that the gold mine, that is the life of the town, has dried up. Jem, Ellie and Nathan meet a young (age 12) Chad Carter (who is older in the
Circle C Adventures
books). If the mine closes, the town will become a ghost town. A new, deeper vein is found, but only if Jem's friend Wu Shen and his family agree to give up their scavenger rights to an abandoned shaft. There's lots of adventure in this book, with angry, volatile miners, a mine owner who will get his way at any cost, and a risky plan that almost costs the children their lives.
We received the books, and I read them to the girls for history reading and bedtime reading. The books are fast paced, and not terribly long, so we had no problem reading both books in the review period, with time to spare. After we finished with them, I passed them along to our neighbor to read to her 6 yr old son, and while, the stated age is 9-13, he has been enjoying them as well.
These are AWESOME books!! We used them as read alouds since that's how we do history in this house. We have the Circle C books on their way to us, and I will turn the girls loose with them. They're realistic books, the kids get in trouble, and make bad choices, and sometimes remember to make good choices, and sometimes think about making a good choice and still make the bad choice. Life in the "olden days" isn't made to look glamorous and perfect, it was hard, and often dangerous. Parents then had to find the line they were comfortable with as far as freedom vs. safety, and that's something I struggle with too. In Tunnel of Gold, we clearly see that as the family settles into life with father's sister and her son, from an east coast city, living there too. . . she wanted to keep the kids closer to home, the kids wanted to roam farther, like they were used to doing, and of course cousin Nathan wanted to go where they went. . . I LOVE LOVE LOVE that these are books written about Christians. Jeb prays when he's in a tight spot. And sometimes it's great, prayers that only a kid who has a relationship with God will pray, like "Please God, don't let Pa notice that I messed up". When they are all in a REALLY tight spot, and scared, Jeb uses Bible verses he's memorized to comfort and encourage them all. I love that!
I asked the girls what they thought of the books. Sassy said she can't wait for book 3 to come out! And that she likes that there's action right away. MiniMe said she wants the 3rd one, and she liked that it was interesting and had lots of adventure, it wasn't just a boring story of someone's life.
These books are available, autographed, for $7.99 each or $13.95 for both, plus s&h.
To see what other members of the Schoolhouse Review Crew thought of these books, click the banner below: