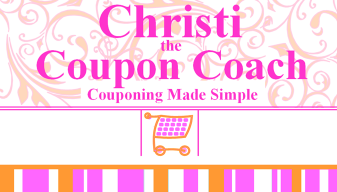 Growing up my mom used coupons, and when I was first married, I used coupons, but over time I drifted away from it. When I was asked to review
Couponing Made Simple
from
Christi the Coupon Coach
.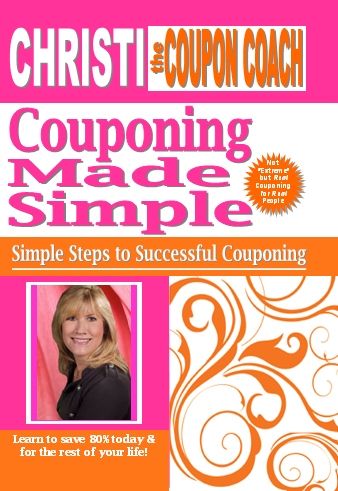 Couponing Made Simple
is a "quick-read" book, or e-book that gives simple, easy-to-follow steps for setting up a system to collect, organize, and use coupons to save money on products you use regularly. The book is available $18 or the Kindle version for $4.99
As I mentioned above, I used to "do coupons" when we were first married, but as we moved our diet to more whole foods and more cooking from scratch, I found that the number of coupons I could use was too small to be worth the time and effort, I found it worked better for us, to simply avoid pre-packaged foods and watch for sales on the whole food ingredients we needed.
BUT I was willing to give this book a chance to see if there WAS a way to make it work with our lifestyle, as well as to see what I thought of her approach compared to how I did it several years ago.
The book is well laid out, and simple to follow. She is clear on only buying things you will use, no recommendations to add on an extra garage stall just to house 3 million rolls of toilet paper here! Couponing HAS evolved in the last 15 years! There are now websites where you can buy or trade coupons, as well as websites that match up coupons and sale ads, those are GREAT resources to have available!
In order to feel like I'd given this book a "fair shot", I did look at some of the websites for matching up coupons. I knew I didn't want to buy newspapers for the coupons, or buy coupons from the sites that sell bulk coupons, but the "matching" sites do also include links to printable coupons when available, so I thought I'd look into that. And after about 30 seconds I remembered the OTHER reason I stopped even considering using coupons . . . it is a HUGE temptation area for me! I can walk by the ice cream aisle in the grocery store and not even glance at it, ice cream is expensive, almost all of it is chock full of added STUFF that shouldn't be going into my body, or my kids' bodies. I can even scan the weekly ad sheet, see that it's on sale, remind myself that it's full of gunk and move on. BUT when I see that it's on sale AND there's a $1 off coupon, making it almost free, THEN I have alot harder time moving on. . . so, couponing does not work for me. BUT I'm also really, really, NOT normal! Even if you don't buy Hamburger Helper and Pop tarts, you might still find lots of coupons you CAN use! Things like shampoo and toothpaste and paper products, meat, etc. . . We're vegetarian. We don't use many of the "normal" toiletries (and make our own for most that we do use), make our own cleaning products, use cloth for almost all of the normal "paper" products. . .
So, my verdict. If you'd like to save money (who wouldn't) and you're not super weird in how you eat and live, it's probably worth at least considering. Do some looking online, or buy a Sunday paper, to try to get a feel for how many coupons you'd likely be able to use. Then, if you're committed to figuring out how to save money with coupons, this book gives really good step-by-step instructions on how to do it.
I know several of my fellow crew mates were excited to see how quickly they were able to save money using the methods in this book, so be sure to read their reviews as well, by clicking the banner below.