My kids love art! From the time the twins were Little Bit's age, or younger, art and crafts have been one of their favorite things! And that hasn't changed. So, when art resources come up for review, I'm pretty much always happy to review them. In this case,
Gryphon House
asked us to review
Global Art: Activities, Projects, and Inventions From Around the World
.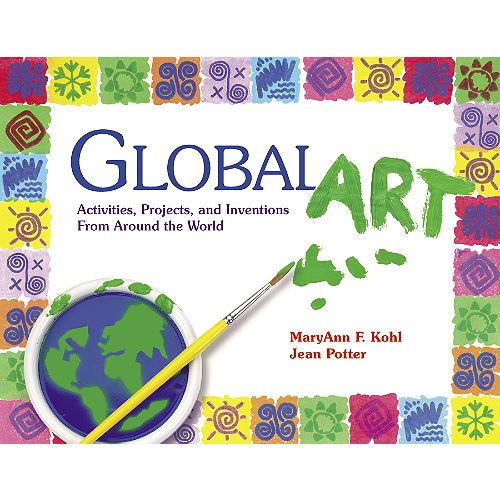 This book, by MaryAnn F. Kohl and Jean Potter, uses fun art projects including painting, sculpture, collages, etc to teach children in Pre-Kindergarten through 5th Grade about places and people groups all around the globe. It retails for $16.95
Ideally, I'd choose to use this to supplement a world history or geography class, but since we aren't doing any world history/geography this year, I decided to just let Sassy and MiniMe pick countries they find interesting, and we would at least look at the art project(s) for that country. In some cases, the projects for countries they suggested included more skill level than I wanted to attempt with our age range or required supplies that weren't in the budget, but we still were able to have alot of fun with this book.
The first project we tried was from Antarctica, and involved painting on paper with watercolors and then sprinkling the picture with different types of salt to make sparkly "snowflakes". For once, the younger kids' tendency to SOAK the paper, paid off, the big girls had a harder time getting their salt to stick, but all of the kids enjoyed it. I wish the book gave a little bit more information about the countries/continents the art projects are from, or provided a better idea of where to find that information. Though, as I mentioned above, the way I would normally use a book like this would be in conjunction with World History or World Geography, so in that case, that part would be taken care of.
I think the project that ended up exciting me the most, was that one of the suggestions for Germany was to use modeling beeswax. On the "con" side of things, I didn't find anywhere local to purchase modeling beeswax (I figured, if I could find it at the local craft store, with a decent coupon, I'd get enough to include our neighbors in the fun), BUT, I had a small box of it that I purchased as part of a group buy when the twins were 4 or 5 and somehow we'd never used it, but I had found it in the packing/unpacking process surrounding our move. So, that was an easy one to do. Little Bit found the beeswax abit too stiff for her liking but the big girls LOVE sculpting with it. I'm THRILLED that this book prompted us to finally try something that I'd had sitting on the shelf all these years! Since it's a small box, I now carry it in my purse to provide entertainment if we need to be quietly entertained somewhere. If you don't have modeling beeswax lying around like I did, you can order it from Amazon or any Waldorf school supply store or site.
Another sculpting one we tried was from the Congo, and suggested soaking a bar of soap, in water to make it squishy, and then sculpting it into "ivory-like" animal sculptures. I'm not sure if I didn't have the right kind of soap or if we did something else wrong, but it didn't really work as described. Little Bit was thoroughly UNIMPRESSED and after about 30 seconds (during which I snapped this picture LOL), wanted her hands cleaned and she was done. MiniMe, on the other hand, loved it. Even though it was a weird consistency, she spent a good halfhour or more squishing the slimy soap around and ended up turning it into a kind of dish filled with little balls. Not sure what she plans to DO with that, but she had fun LOL.
Those are only a few examples of the projects in this book, it has tons of suggestions from all over the world! I plan to keep it on my shelf to pull out when I need an art project to keep the kids busy, but then I'll pull it out regularly when we finish up US History and start on World History in a year or two. Even though, by then, the twins will be "too old" for the suggested age range, I think there are plenty of art projects in this book that will still hold their interest.
To see what my fellow crew mates thought of this, and a Preschool book from Gryphon House, click on the banner below.