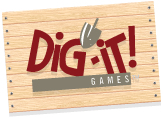 One of the many benefits of being a homeschool reviewer, when you're the child, is getting to hear your mom say things like "have you played your computer game yet today?". We were asked to review the
Mayan Mysteries Online Game
from
Dig-It Games
.
In
Mayan Mysteries
, you are part of "Team Q" trying to find an artifact thief. and find a lost Mayan city. Along the way you will learn a LOT about the Mayan culture, and complete challenges ranging from map activities to quizzes to calculating things using Mayan math.We received a single user license for the online game for one year ($21.99).

The single user license can be used by the whole family, but only one game can be active at a time, so we decided to let Sassy play through the game (stated to take about 12 hrs of playing time, I didn't time her, but would guess that is about right) and then, as time allowed, let MiniMe start through it. Our biggest challenge was that the girls' can't find their computer, so have been playing the game on mine, That means finding a block of time when I don't need my computer :) If they'd had their own computer, I suspect they would both have been through the game in the first week or so.
After showing Sassy how the game works, for the most part, she did the entire game on her own. The one area that she couldn't figure out was the Mayan math. It IS tricky, we worked together on those challenges, but other then that she did the whole game without any problem. She loved it and it has whetted her interest in the Mayan culture. Her only complaint, and it's a big one (that I concur with). After completing the game, instead of "catching the bad guy" the game ends by saying something about join us for Mayan Mysteries II, coming soon, to continue our adventure. So now she's frustrated wanting to FINISH her game, but the 2nd one isn't available, and even if it was, that would mean spending more money.
MiniMe is still working through the game. I suspect she hasn't come to the math part yet. She is also enjoying it, and when I turned her lose with the computer one afternoon, played it for at least 2 hours and would have kept going if I hadn't needed her to do something else.
The game is for grades 5-9. I never know how to evaluate "grade level" stuff, since one of the benefits of homeschooling, to me, is not being tied to a grade level. We arbitrarily called the girls 2nd graders the first year we had to report to the state, so to the state they are going into 4th grade. For review purposes, I have decided to assume approximately a 5th grade level. I would guess when it comes to history and reading, they are abit higher, because they read so much, and because we have focused so much on history. As noted above, they were able to play the game without any problem (except for the math), so that seems to fall in line with them being pretty solidly in the recommended age/grade for this game.
I'm torn in my opinion of this. It's fun and educational and has whetted their appetite to learn more about a topic, that is AWESOME!!!!! On the other hand, I would be EXTREMELY frustrated to have spent over $20 on a game, only to get to the end and find that it's not the end, and I have to spend MORE money to finish it. That is my main complaint.
To see what other Schoolhouse Review Crew Members thought of this game, as well as the iPad app for the same game, click the banner below.