Most of our review products are, understandably, for the older girls. After all, they're the ones who are school-age, and we ARE reviewing mostly homeschool products. So when the package from
Greene Bark Press
got to our house and I told Little Bit that it was for HER! She was very excited!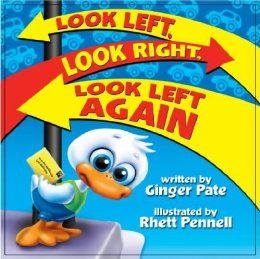 Look Left, Look Right, Look Left Again
by Ginger Pate is an adorable board book to help children, age 3-8, learn about crossing the street safely.
In this adorable little story, Wally Waddlewater's mother helps him learn to cross the street safely by teaching him to "Look left, look right, make sure the cars, are out of sight. Then, look left again." As the story progresses, in addition to cars, he has to wait for trucks, buses, and even an elephant to move out of sight before crossing the street.
As soon as Little Bit heard the package was for her, we, naturally, had to read it IMMEDIATELY! She enjoyed it, but, not one to sit still long, moved on to other things.
Later, I walked into the living room to find her sitting in the recliner, "reading" the book to herself. Of course, by the time I grabbed my camera, she had noticed and, instead of a nice, candid, picture of her reading, I got this:
Why yes, she IS, a four-year-old, why do you ask? LOL. With some coaxing, I got this picture:
but could NOT convince her to stage a picture of her actually "reading" the book, sigh . . .
Over the last several weeks, she's asked me to read it several more times, which is pretty high praise, considering how many books we have in this house, only the best of the best get requested for repeat reading! And perhaps even more telling, as we were walking to the neighbors' house a few days after the first reading, when we got ready to cross the street, without prompting she said "Look left, look right, make sure the elephants are out of sight" so obviously the message had sunk in!
Now in reality, she's always been good about crossing the street, but still, she's enjoying the book, and the message obviously is easy for little kids to remember :)
If you're wanting to teach your preschooler to cross the street safely, this little book would be a great resource. I do feel that the upper age limit of 8 is unrealistic. I think 6 is probably about the oldest that my older girls would have found this book entertaining, and even then, they might have found it abit too "babyish", but they had also learned to look both ways before that age, so perhaps if a child was still struggling with that concept, they might find the book helpful?
This book is available for $8.50.
Check out what other members of the Schoolhouse Review Crew thought of this book by clicking the banner below: