We're a history-loving family! By the time Sassy and MiniMe were 5, they were
asking so many questions
showing enough interest at the historic sites we visited, that I realized I needed to start some type of a chronological American history curriculum with them so they understood how the pieces fit together. That year I found a free "book list" of sorts, online that allowed me to find age-appropriate library books moving us through American History. They loved it, and we've included a heavy dose of history in our homeschool days ever since. Right now we are 2/3 of the way through a 3 year trip through American History (again). We are still using the same basic approach we started with when they were preschoolers, we just use bigger/longer books now, and they still love it. BUT . . . there are SO MANY awesome books, that it's taken us 2 years to get as far as 1870 (ish), we've had a blast, but I've been worrying about getting through the rest of American History this year, how will I make sure we don't miss something important but still have time for it all? Last spring at our state's homeschool convention, one of the booths I had on my "must check up" list was
Notgrass Company
to check out their
America the Beautiful Curriculum Package
. I loved what I saw, but was concerned that my girls, used to reading living books for history, would find any textbook, even an extremely well-written one, too summarized, so I reluctantly walked away.
Fast forward to a couple moths ago, this same curriculum came up as a possible review product, WOO-HOOO!!! A chance to test out what I already knew looked like an EXCELLENT textbook and see how the girls would do with a textbook approach :)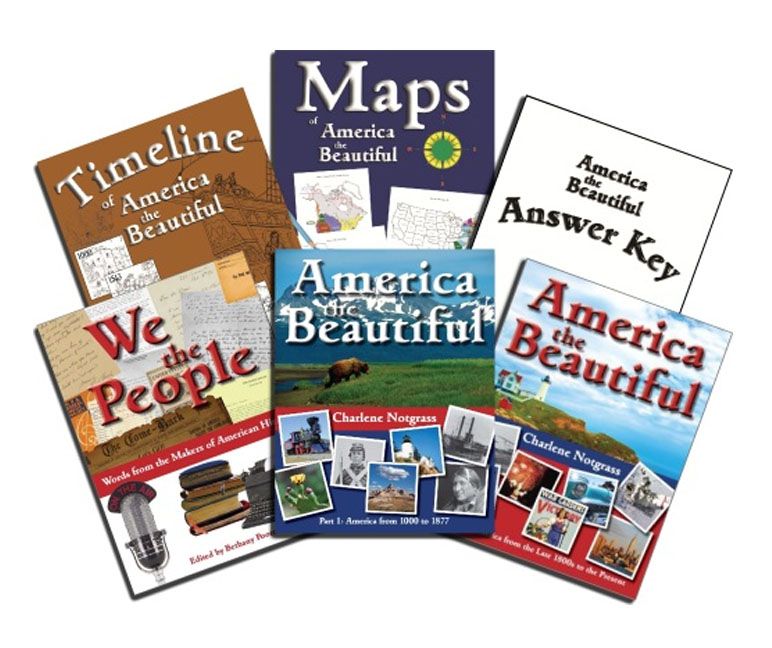 We received the complete
America the Beautiful Curriculum Package
($99.95) PLUS the
America the Beautiful Student Workbook
, 5th and 6th grade ($11.95) AND the
America the Beautiful Lesson Review
for 7th and 8th grade ($9.95)
This curriculum is a one year American history, geography and literature curriculum, from a Christian worldview, for ages 10-14.
Because we are already studying American history, I chose to jump into the book at the point in history we are studying (Westward expansion), rather than starting at the beginning. I found that to be very easy to do. Each "Unit" consists of 5 lessons, intended to take one week to complete. Typically the first lesson is "Our American Story", an overview of the next, chronological period in history (for example, the lesson we are currently in, covers things happening during Johnson's and Grant's presidencies), the rest of the week is some combination of the following types of lessons:
God's Wonders - describing some natural "wonder" in America (for example, Niagara Falls)
An American Landmark - pretty straight forward, describing some famous place in America, for example, the Smithsonian Institute.
An American Biography - obviously, a famous American person.
Daily Life - describing some aspect of daily life in America during that time period, for example, cattle drives.
Each lesson is a few pages of reading, the length varies, but never too long to easily use as a read-aloud, though obviously the student could also read it themselves. Each lesson has lots of pictures, but they're quite small, so from that standpoint, it would work better to have the child read it on their own, since my girls are both auditory learners AND I like that Little Bit, and our neighbor, E, when he joins us, are also at least hearing it in the background when I read aloud, we used it as a read aloud.
After the reading there is a list of 5-6 (ish) suggested activities. Most lesson include adding something to the
Timeline
and/or adding something to a map in the
Maps of America the Beautiful
. All lessons (at least that I've looked at) including doing one assignment in the
America the Beautiful Student Workbook
or
America the Beautiful Lesson Review
, if you're using one of these optional books. Since my girls are in 5th grade, we used the student workbook. Additional suggested activities include, Thinking Biblically (reading, and sometimes copying, a Bible verse related to the lesson), vocabulary (looking up and/or using words in sentences), creative writing (writing a paragraph, or short story about the lesson topic), and Literature (in most cases there's a suggested chapter book to be read over the course of 2 units, additionally most lessons include reading a page (give or take) from
We the People
. Once a week, there is also a suggested "Family Activity" which varies from planning a Plantation Dinner (which the girls are very excited to do, but we did that lesson as we were travelling in Boston, so we haven't found a time to do it yet), to learning to dance the Virginia Reel, to putting on a play.
Because each child really should have had her own map book, timeline, and workbook, but we only received one of each, and I didn't want to order additional copies unless I was sure we would continue using the curriculum all year, we alternated days, one day Sassy would do the map, and MiniMe would do the workbook, and the next day they would switch. We are already preparing an American history timeline, so rather than writing the timeline entries in the America the Beautiful Timeline, we just added those entries to our current timeline.
I found that on days when there was creative writing, etc, we did better to split the lesson over 2 days. If I were planning to use this complete curriculum, at least for 5th/6th grade, I would plan on it being a 1 1/2 to 2 year curriculum. Alternately, you could decrease the activities you did in each lesson, but one of the parts that MiniMe liked best was the creative writing which is also the most time consuming.
I was easily able to find the literature books that were a part of the units we covered, at our library, and that part of the curriculum was very much like we normally do for history, so it was "normal" for us. I will admit, I didn't follow the "schedule" of how many chapters to read per day, just made sure that we were reading enough to finish the book before we got to the next unit that started a new literature book.
What we thought? For a textbook approach, I think this one is EXCELLENT! I was disappointed in some of the geography sections, though others were interesting. The girls are so used to "living books" that they were frustrated with the lack of detail in the textbook reading. They want to know all about everything, not just a brief overview, but obviously that wouldn't be possible in a one year curriculum.
The workbook is very typical of a workbook, with things like crossword puzzles, word scrambles, etc. the girls have done lots of these while working on National Park Junior Ranger badges, but don't especially enjoy them, so while they found the workbook easy enough, they didn't love it, and if i were purchasing the curriculum, I probably wouldn't bother. But again, we're not a workbook family. At this point, Little Bit (4) LOVES workbook-y things (mazes, dot-to-dots, even just tracing letters and numbers) , so if she continues in that love, then if I were using the curriculum for her, I probably WOULD get the workbook. Since the girls are only 10, we didn't use the Lesson review book, for older kids.
The Timeline looks like a nice option if you don't want to make your own timeline, in addition to the things the assignments have you add to the timeline book, there are other historic things, and illustrations, already included in the timeline.
The map book, I'm torn about. The girls found it "babyish" to color in states on a map and such, BUT it does help them to better understand the geography, and is quick and easy to do. Even though they don't love it, they didn't whine about doing it, because it only took a couple minutes.
We the People is interesting because it's real historic documents and such, a letter from or to the president, or a newspaper article from that time period, etc. On the days when the textbook reading was longer, and we also had reading from the current literature story, it was abit much to also add in We The People. If you're committed to finishing this curriculum in one school year, this would be an easy part to "cut", to keep things short.
MiniMe loves creative writing and copywork, so loved those parts, Sassy, doesn't, and didn't. They are what they are LOL.
The Family Activities vary quite abit, but are a fun add-on to at least consider. As you can see in the picture, the girls had a blast with the Virginia Reel :)
So what are we going to do, going forward? MY suggestion was that we use America the Beautiful, but if it mentions something that they want to learn more about, we stop, and find a "living book" on that topic and read it before moving on. Since we are right at the "semester break" for this curriculum, and I'm wanting to finish up American history this school year, it would time out just about right, I think. But even with adding in the extra living books, the girls, MiniMe especially balked at the summary-level of a texbook. She said she finds it frustrating to hear ABOUT things, but not really know what they are. So, we are going to continue with our living book approach. I do plan to continue glancing through the activities, as we go forward and sometimes use the suggested creative writing assignments and family activities. I do think this is an AWESOME curriculum, even if it didn't fit with my kids' learning style :)
Be sure to click on the banner below to see what other Crew members thought about this curriculum, as well as Notgrass's Draw to Learn series.