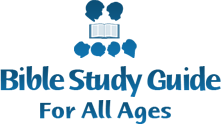 By far the most important subject I "teach" is Bible. I firmly believe that, no matter how "smart" my children are by the world's standards, if they don't know and love God, I have failed in our homeschooling. We've used, and loved various resources for Bible over the years, but this year I had a new challenge. Not only is Little Bit (4) getting closer to being old enough to join the big girls (10) and I in our Bible studies, but we also have our neighbors, E (6) and J (3) joining us for school 4 days a week. As I was searching for a Bible curriculum that would at least meet the needs of E and the big girls,
Bible Study Guide for All Ages
came up as a review product on the Schoolhouse Review Crew.
They were amazingly generous and allowed us to request products for all of the children in our homeschool, so I received the following:
Beginner Student Pages
($5.95) - 3 sets (for Little Bit, E, and J)
Beginner Time Line
($24.95)
Children's Songs CD Set
($19.95)
Advanced Student Pages
($5.95) - 2 sets (for Sassy and MiniMe)
Bible Book Summary Cards
($24.95)
Bible Study Guide for All Ages, as the name suggests, is a way for children of all ages, to go through the Bible at the same time.
I chose the
Beginner Level
, ages 3-K, for all 3 younger ones. We don't "do grade level" per se, and E is definitely beyond K in many areas, but since he's not yet reading independently, Beginner was the appropriate level for him.
You can see a sample of the Beginner Student Pages on the
product page
. The lessons come in a tear-apart pad, and are a not-standard, size. 8 1/2" by Longer than legal :). While I understand their desire to fit each lesson on a single sheet, this does make filing it, less-than-ideal :)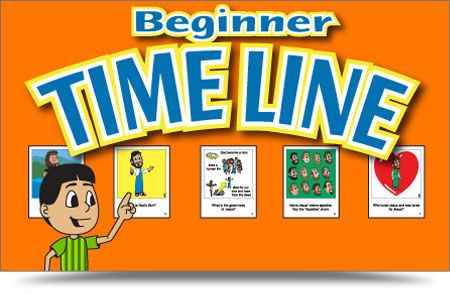 Along with the student pages, for the Beginner level, we received the
Beginner Time Line
. This is a set of beautiful, 8 1/2x11 glossy, heavy-weight cardstock, pages. Ideally, you would hang these on the wall. They move chronologically through the Bible, with each card asking a simple question for the children to answer. As a part of each lesson, you review the previous cards and, if applicable, add a new card. You can see samples of these cards on the
product page
.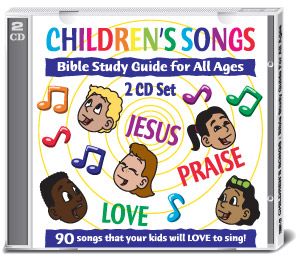 Our final product for the Beginner Level was the
Children's Songs CD Set
. This is a 2 CD set with 90 a capella songs, some are typical kids' religious songs, others are specific to this curriculum. You can see a list of all the included songs and hear samples of a few on the
product page
. Both Little Bit and E really liked the song, "One Day" about the days of creation.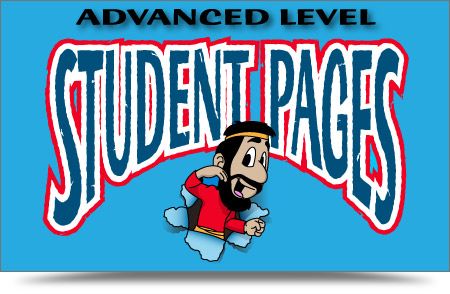 For Sassy and MiniMe, I decided to go with the
Advanced Level
, which is listed as being for 5th and 6th grade. Again, we don't really "do" grade levels. For reporting to the state, I rather arbitrarily call them 4th graders, but much of their school work is probably more at a 5th or 6th grade level. After looking over the samples for both Intermediate (3rd an 4th grade) and Advanced, I decided the Advanced definitely wouldn't be "too advanced" (ha ha) for them to handle. As with the Beginner Student Pages, these are on a tear-away pad, one page for each lesson, and you can see a sample on the
product page.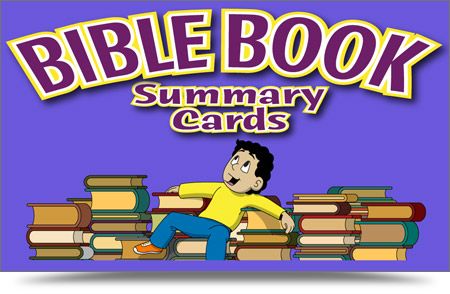 The final product we received was the
Bible Book Summary Cards
. These are used with the Advanced Level student pages. There's one card for each book of the Bible, with "memory jogger" pictures on the front, and a summary of the chapter on the back. They look similar to the Bible Timeline Cards (but they're 2-sided, so hanging them on the wall wouldn't work as well). You can see samples on the
product page
.
So, how did we use it? The front cover of each pad of student pages, included suggestions for how to use the products, and we also received a page of instructions in the package with everything. That page included suggestions for using the products with multiple ages. After some trial and error, we settled into a routine where I look over both levels ahead of time, and pick any good "group activities" from either that look like they'd work well for the whole group. If one of those is an "introductory" type activity, we do that first. Then I go over the "review" section with the little kids while the big girls do theirs on their own. At first I tried reading the Bible passages aloud to everyone but we found that the breaks to fill out the worksheets didn't line up between the two ages, and with Little Bit and Jared being so close to the lower age limit, that was too much sitting still for them, even when I used an easy-to-read version. Once I determined that the verses didn't line up anyway, I just told teh big girls to read their verses on their own and work at their own speed. Instead of reading the full Bible passage to the little kids, I read the "summary story" that's listed on the back, next to the pictures, and had them do the coloring and circling as suggested. J decided he didn't even want to do that, and usually just cuddled on my lap during our Bible time. That actually made it a LOT easier, because it meant I could use his pages as my "teacher's guide". We found that on days that E and J joined us, it worked best to divide a lesson over 2 days. Sometimes when it was just the 3 girls, and I could keep things moving exactly at Little Bit's pace, it worked ok to complete a whole lesson in one day.
I think this would be a wonderful product for a church or other group to use, in which each age/grade range had their own class. It would be really great to have everything build on itself between classes, so that when a child moved into the new class, they would pick up right at the same place in the curriculum that they'd been at in their former class. I did not find that it truly worked to work together with multiple ages (it might work with a smaller age span (say 3-6th graders), as I mentioned, the verses didn't line up, and even when they did, it was alot of reading for such little ones.
Little Bit and E enjoyed this curriculum. Telling little bits of the story, and then stopping and doing something on the worksheet helps to keep their interest. I really like the idea of reviewing a few things from previous lessons each day, to help them continue remembering what we've already learned.
The big girls were not fans of this curriculum, at least the way we used it. I think we could have "made it work" for them, if I'd only been dealing with them, or them and other children nearer their age. Our Bible times have always included plenty of discussion and I think that was something they really missed. Because the Beginner student pages required complete teacher involvement, I didn't have any time/attention to devote to interacting with them, beyond answering specific questions. Even if we could have solved that problem, they simply found the lessons too easy. They enjoyed the map part, and sometimes, the timeline, but the actual "Discover the Bible" section, they said was way too easy for them, and therefore "boring". I don't know what the solution to that would be. I also don't know that their level of Bible knowledge is typical of 10 yr olds, we've always focused pretty heavily on Bible, with lots of discussion, in our home, so they may be significantly "above grade level" when it comes to Bible? I honestly don't know.
One suggestion I would make, for anyone choosing to use this with more than one child, it is definitely worth the extra $6/level, to buy yourself a copy of the Student Pages (or alternately, look into getting the Teacher guide, I don't know what it's like. If it doesn't include an exact replica of the student pages, I'd still get the student pages). As I mentioned above, since J didn't want to use his, I was able to use his, but otherwise it would have been frustrating to have to keep taking it back from one of the kids to read the next part and see what the directions were.
While we don't plan to continue using the Student Pages at this time (I may use them in the future with Little Bit, I don't know), I DO plan to continue using the other resources we received.
The CD includes quite a few songs that teach various Bible facts set to catchy tunes. My only complaint, for those using it, as intended, with the student pages, is that the songs aren't in the order they are presented in the curriculum. In the age of mp3 players, this isn't a huge deal, I ripped the CDs onto my laptop and set up a playlist on amazon music that put the songs we needed in the order we needed them, but if you don't have that capability, within the first couple days we were already using 2 songs that were nowhere near each other on the CDs.
We are planning to work chronologically through the Bible beginning next month, and I plan to pull songs from the CD, as they fit into our Bible study. I also plan to use the Bible Book Summary Cards as we begin each new book of the Bible, introducing the new book, and reviewing the previous ones.
The Beginner Timeline is an awesome way for little ones to learn the chronology of the Bible. Little Bit's class at church goes through the Bible chronology on a one-year cycle, so I think when we start back through in January, I will use these in conjunction with reading her the Bible story each day.
I know that, while this, as a whole, wasn't a good fit for my older kids, many other crew members found it to be a good fit for their families, so be sure to read their reviews as well. You can click the banner below to see all the reviews for this product.