Growing up, I loved the Little House on the Prairie books! My friend and I read them over and over and then we'd rope our younger siblings into acting them out with us, over and over! So, as soon as Sassy and MiniMe were old enough to enjoy chapter books, we read the Little House books, and they loved them too!! We even did a whole school year focusing on the Little House books for history. So, when
Legacy Documentaries
gave us the chance to choose between TWO DVDs about the Wilders, one focusing on Laura, and the other, on her husband, Almanzo, I was thrilled! And for once, I honestly didn't care WHICH one I got, I love learning more about Laura, but I've never heard much about Almanzo, besides what Laura put in her book,
Farmer Boy
so, learning more about him sounded fascinating too. We ended up getting
Almanzo Wilder: Life Before Laura
.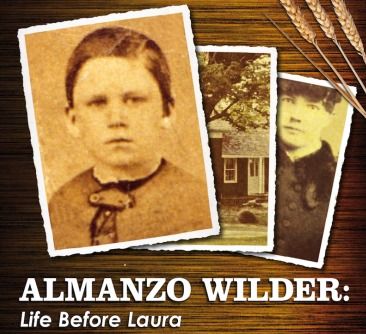 As soon as I knew we'd be getting it, I dug out our audiobook version of
Farmer Boy
and we all listened to it in the car over the next couple of weeks.
By the time we'd finished the book, our DVD had arrived, and we were all anxious to watch it!
As the title suggests,
Almanzo Wilder: Life Before Laura
is a documentary about Almanzo Wilder's childhood. It is available for $21.95. It's a great video for the whole family, but the target audience is ages 8-13, the reading ages for the Little House books.
The video is shot mostly at the restored Wilder Homestead in New York state. The "narrator" for the video is Dean Butler, who played Almanzo on the Little House TV series. It uses a combination of recreating/acting out scenes on the homestead, quotes and drawings from the books, and narration to share details about Almanzo Wilder's childhood.
I think the biggest thing the girls and I took away from this video was a strong desire to go visit the Wilder Homestead! In fact, as we were watching the DVD, I was googling to see just how far away it is from us. Unfortunately, while New York is our "next door state", the Wilder homestead is about as far away from us as you can get and still be in the state of New York, sigh . . . I'm still adding it to our "someday field trip" list though :)
The girls were disappointed that the DVD didn't really give much additional information on his childhood beyond what
Farmer Boy
already tells us. They, and I, were hoping for additional historic information about his life, and there wasn't much on that.
I think this would be a great resource for a Homeschool Group Library to have available for their members to use, or for a group of families to go together to buy and share with each other. It's not a video that I'd expect most people to watch over and over, which is something I look at when purchasing resources. I'm glad to have it, and it's a great addition to my "Little House Unit Study" shelf, but I find the price higher than I'd be willing to pay for the amount of use we will get out of it.
Click on the link below to see what other Crew members thought of this video, as well as one about Laura Ingalls Wilder.